Catherine Rose of Sweetcheeks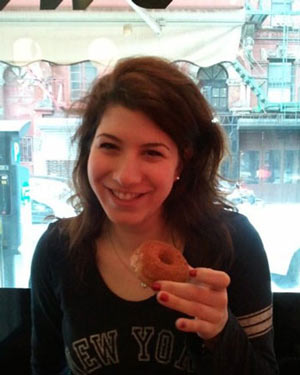 I am Catherine Rose but you may know me by my
company name, Sweetcheeks - a bakery company which
I set up six year ago, specialising in free-from cakes with natural substitutions (i.e. no egg replacer or additives etc). The products all have clean ingredients labels without compromising taste or texture. It took a long while and
lots of experimenting to perfect these recipes, but that was
great since I was a hungry coeliac with a passion for cooking.
So despite my background being in Ancient Greek
Sculpture I was surprised to find that I was pretty good
at baking and cooking, and Sweetcheeks did really well,
earning a few FreeFrom Food Awards wins along the way!
So food became not only my passion but my career.
Since I set up the company, I have worked as a Product Developer for Innocent Drinks (alongside the amazing @glutenfreeness), a consultant Product Developer for Free'd foods and I am now setting up my own cafe Printworks Kitchen in Farringdon.
My bookshelves at home are jam-packed with cookery books, which I use as picture books to create hunger pangs, but rarely do I follow the recipes. I tend to get inspired and then proceed to make up my recipes by tasting and tweaking as I go (not 'twerking' as spell-check just suggested!). My favourite cuisine to cook is Persian because of all the flavours, colours and textures. Imagine blending the fragrance of saffron with tart barberries, rose essence and slivers of pistachio, almond and orange peel ... mmmm.

If you want any further tips on turning your favourite dishes into free-from versions or want any more recipes, either check out my blog www.mylifeinfood.net or the Sweetcheeks Facebook page, or come and find me at the Printworks Kitchen.

Catherine's recipes
Click on the name of the recipe to jump to it.

Pancakes - ready for Shrove Tuesday
Simple, quick, award-winning cupcakes
Pancakes - ready for Shrove Tuesday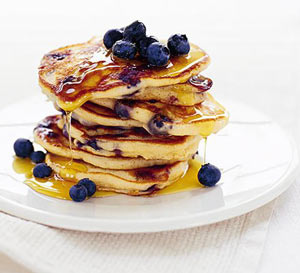 Gluten free, wheat free, can be nut free, soya free or dairy free
Ingredients
200g gluten free plain white flour
2 eggs
1 tbsp coconut oil
500 ml milk / soy milk / almond milk
¼ tsp xanthan gum
Whisk all ingredients together.
Let mixture settle for 20 minutes.
Rewhisk and dollop onto hot coconut-oiled pan.
When edges start to go crispy, flip it, baby!
Fry for a further minute and then serve with a drizzle
of maple syrup and blueberries. Oh yeah!
Bloody-easy pesto
Gluten free, wheat free, soya free, egg free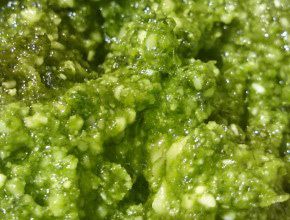 Makes enough for about 6-8 portions

Ingredients:
3 bags of fresh basil
2 garlic cloves
3 handfuls of pine nuts
a chunk of Parmesan cheese (approx 250g, but who's counting?!)
salt flakes
ground pepper
olive oil (other oils are ok, but olive oil will give a great richness to the pesto)
Put all ingredients in a blender and blend until smooth. The pesto should be slightly sweet and a vibrant green colour.
Toss through some al dente pasta and eat. That's it!
Store in an airtight container for approximately two weeks in the fridge. But it probably won't last that long.
Here are some things you can add into the blender at the same time to alter the flavour or give further health benefits:
Kale. Adding in some curly kale or cavolo nero will add a slight bitterness to the recipe but also boost your protein and fibre intake.
Green Olives. This will give the pesto a salty, acidic taste to it (you can probably lower the actual salt added because of this).
Black Olives. Black olives (the pitted ones in a jar) are easy to whack in to add a robust, mellow, sweet flavour to your pesto. But also be aware that the pesto will turn out slightly brown in colour rather than a bright green.
Sundried/ Sunblushed Tomatoes. Again, this will alter the colour of the pesto, but what you gain in return is a great rich taste and a hit of fibre, potassium and magnesium to pack some more nutrients into your body.
Rocket. High in calcium, iron and vitamins A, C & K: give your body a boost along with a nice peppery taste.
Simple, quick, award-winning cupcakes
Gluten free, wheat free, nut free, soy free, dairy free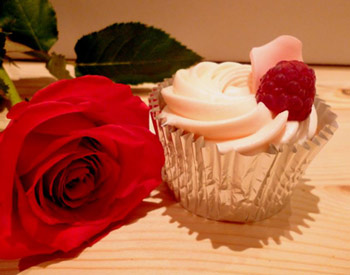 Makes 12 cupcakes
Ingredients:
145g sunflower spread
145g caster sugar
2 eggs
145g gluten free plain white flour
2 tsp gluten free baking powder
¼ tsp xantham gum
½ tsp vanilla paste
Icing:
125g sunflower spread
125g vegetable shortening
250g icing sugar
Preheat oven to 180C.
Blend the spread and the sugar together until smooth.
Add the egg and beat until all lumps are gone.
Slowly sift in the flour, baking powder and xanthan gum whilst mixing.
Stir through the vanilla paste. Your mixture should be thick and smooth and should not drip off the beaters (plenty more for licking later!).
Fill 12 cupcake cases in a cupcake tin and pop into the oven.
Bake for 15-20 minutes until the tops are golden brown, a skewer comes out clean or until you just. Can't. Wait. Any. Longer!
While they are cooking, mix together the shortening and the sunflower spread and add in the sifted icing sugar. Blend until smooth and then fill your piping bags ready.
Once the cake are cool, smother the tops of them with the frosting.
This is a fail-safe recipe and is so simple that you can add your own flavours to it. My favourite is Raspberry & Rose Petal (pictured)
Salt and pepper tofu
Gluten free, wheat free, dairy free, egg free, soya free, nut free, lactose free
Ingredients: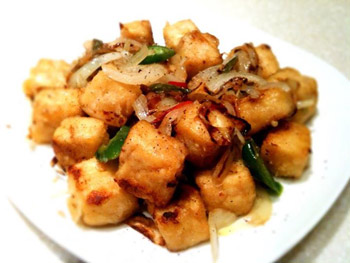 1 packet of firm silken tofu
250g of gram flour and potato flour blended (polenta works pretty well too)
1 tbsp salt
1 tbsp ground black pepper
3 cloves of garlic
1 red/green chilli
2 spring onions
1 shallot
rapeseed Oil
Gently cut the tofu into blocks about 2cm cubed.
Mix the flour, salt and pepper in a bowl.
Slice the chilli, shallot and the garlic and put in
a frying pan of hot oil.
Toss the tofu in the flour mix, remove and then add
to the pan with the garlic and chilli.
Toss the tofu until golden brown on all sides.
Remove tofu, garlic and chillis and drain on kitchen roll.
Sprinkle over the sliced spring onion.
Gobble it up!

Persian inspired aubergine, coconut & cardamom curry
Gluten free, wheat free, dairy free, egg free, soy free, nut free, lactose free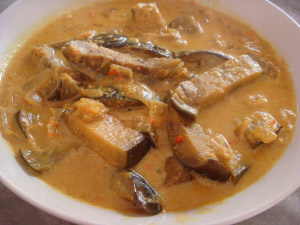 Ingredients:
1 aubergine
5 shallots
coconut oil
olive oil
6 cardamom pods
1 can full fat coconut milk
1 can chopped tomatoes
1 tsp turmeric
1/2 tsp crushed chilli flakes
1 fresh chilli
vanilla salt (optional)

Preheat oven to 180ºC.
Chop the aubergine into one-inch thick slices or chunks and spread over a baking sheet. Toss with olive oil and salt and pepper and whack in the oven for 15-20 mins turning as they go golden.
Meanwhile slice up your chilli and shallots quite thinly and crack open those cardamom pods to access the black seeds inside - these are the bits that hold the sweet perfumed flavour.
Heat some coconut oil in a pan and add in the shallots and chilli, stirring over the heat until they are soft. Now start to intensify the flavours by adding in the turmeric and the cardamom seeds. Keep stirring until the shallots brown slightly and the spices are toasted.
Stir in the chopped tomatoes, coconut milk (full fat), the chilli flakes and the roasted aubergines. Increase the heat to bring the curry to a simmer.
At this point I add in a great ingredient which added a bit of floral sweetness to the dish (I fancy being fancy, is all). I use a sprinkle of vanilla salt just to bring out the sweetness of the dish and add that orthonasal sensory element.
Reduce the heat and simmer gently for 20-30 minutes, stirring occasionally. The sauce should be slightly thickened - stew-like. If you want it thicker, leave with the lid off to sit for a while or you can whack the lid on and reheat later with the lid off to thicken slightly again.
Click here for more guest recipes