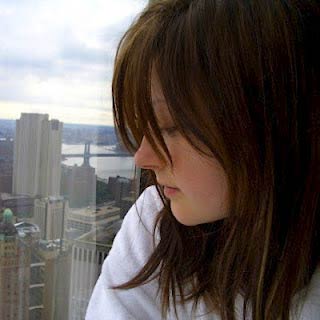 Caleigh - the Gluten Free[k]
Click here for the Gluten Freek blog
Caleigh has lived with active Crohn's disease for half her life, and with active coeliac disease for the last
five years. She has also had both a colostomy and an ileostomy.
As she says:
Managing two digestive diseases can be complicated, confusing and frustrating, however, it can also be rewarding. Although life with Crohn's Disease and Coeliac Disease is far from straightforward, it has taught me that I have far more strength and perseverance that I would ever have believed.
I started a blog as an outlet for the feelings I had after I was diagnosed with Coeliac Disease and through it I have had opportunities the meet others who eat gluten free.
I have found other bloggers to be a rich source of information and inspiration, so I decided to collaborate with them to inspire others at Christmas-time. I challenged a group of gluten free (and gluten free friendly) bloggers to come up with recipe ideas or product reviews for all those Christmas favourites that Coeliacs usually miss out on. It was a resounding success and before the 12 days were over, people were asking for another challenge!
Buoyed by the glowing feedback from "Free From & Festive", in March, I invited a bloggers to post a gluten free recipe using oranges as the main ingredient. The idea was to create a dish based on a key ingredient and a few restrictions - in March, the recipes had to be dairy free and free from almonds, chestnuts and hazelnuts - as well as being gluten free. Twelve bloggers took part and each posted an original recipe, each different from the next, and together we produced a catalogue of dairy-free, tree nut-free and gluten free dishes, both sweet and savoury. At that, The Great Gluten Free Recipe Challenge was born! I hope to organise bi-monthly recipe challenges, involving as many gluten free bloggers as I can in order to motivate others into the kitchen, the same way that all the blogs I read motivated me.
By using web forums and social media, I have discovered that the Coeliac community and the IBD community are incredibly caring and supportive, and I have met some inspirational people who I am pleased to call my friends, and was honoured to be asked to judge in the 2012 FreeFrom Food Awards. While I would probably change the physical symptoms of these two autoimmune diseases, I am not so sure I would want to change the experiences I have had because of them.
Check in to Caleigh's blog and the Great Gluten-free Recipe Challenge here.
Caleigh's recipes
Click on the name of the recipe to go to it.

Sri Lankan-style Chicken Curry
Sri Lankan-style Chicken Curry
Corn, dairy, egg, gluten, lactose, nut, soya and wheat free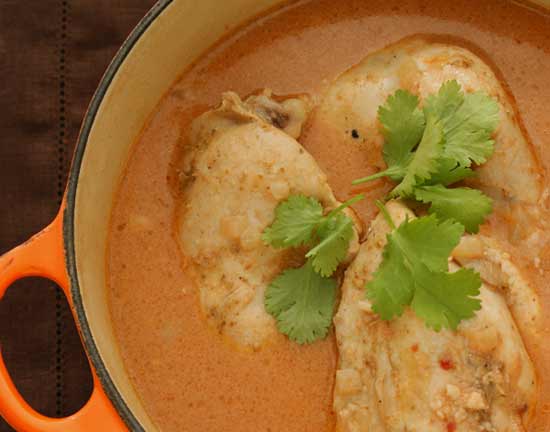 Serves 4
1.5kg chicken, jointed and skinned
4 tbsp lemon juice
6 cloves garlic, crushed
3cm piece ginger, grated
2 tsp salt
1 tbsp ground black pepper
1 tbsp roasted curry powder (see below to make your own)
1 tsp chilli powder
3 tbsp vegetable oil
1 large onion, sliced
1 cinnamon stick
1 stick lemongrass, bashed with the back of your knife
2 cloves
4 green cardamom pods, whole
8 curry leaves
300ml water
2 tbsp tomato puree
1 x 400g tin coconut milk
Marinate the chicken in the lemon juice, garlic, ginger, salt, black pepper, roasted curry powder and chilli powder, for at least an hour (overnight if possible).
Fry the onions until soft, add chicken and all the marinade, brown chicken and add cinnamon, lemongrass, cloves, cardamom pods and curry leaves and fry for 1-2 minutes.
Add 300ml water and the tomato puree, bring to the boil then simmer, covered, for 90 minutes.
Before serving, remove the lemongrass stalk and cinnamon stick, add the coconut milk and return to the boil.
Serve with boiled basmati rice
Roasted curry powder
4tbsp coriander seeds
2 tbsp cumin seeds
1 tsp fennel seeds
5 cloves
seeds from 5 green cardamom pods
4 curry leaves
1 dried red chilli
1 tsp black peppercorns
1 tbsp raw long-grain rice
gently roast in a dry pan, stirring often to prevent it from burning. When the rice has turned brown, it's ready. Cool, then grind into powder with mortar and pestle. (This will keep in an airtight container for a few months.)
Beef Tacos with Tomato Salsa
Dairy, egg, gluten, lactose, nut, soya and wheat free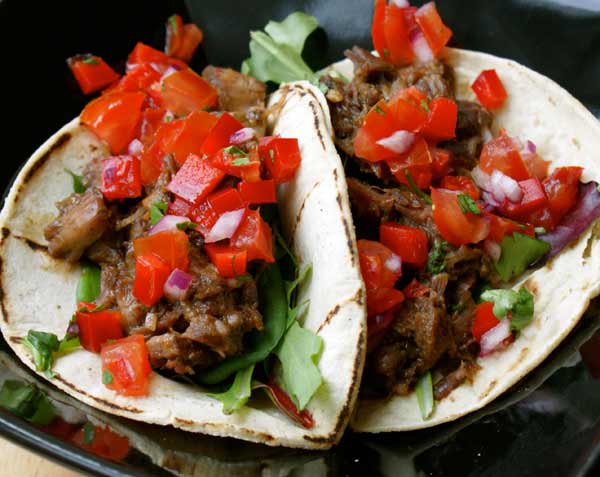 Serves 4
Beef Tacos
1 tbsp oil
500g beef shin
1 garlic clove, crushed
1 tsp dried oregano
1 tsp paprika
1/2 tsp ground cumin
1/2 tsp ground coriander
1tsp salt
250ml water
Tomato Salsa
2 small red onions, finely chopped
300g tomatoes, deseeded and chopped
1 red pepper, deseeded and chopped
1 long red chilli, deseeded and chopped
Juice of 1 lime
1/2 tsp salt
2 tbsp fresh coriander, chopped
To serve
4-6 corn tortillas (or taco shells), or 8-10 mini corn tortillas
A handful of lettuce leaves
Preheat your oven to 160°C. Heat the oil in an oven-proof dish and add beef. Fry for 1-2 minutes until browned and add the spices and salt and fry for another minute. Add the water and bring to the boil, cover and place in the oven for 2-3 hours, until the beef is tender, and most of the liqiud has evaporated. Remove from the oven and shred the beef using two forks.
Mix all the salsa ingredients together in a bowl.
Warm the tortillas or taco shells according to the packaging instructions.
Place lettuce on top of each tortilla and add the beef mixture. Top with tomato salsa and serve.
Mango Brûlée
Dairy, egg, gluten, lactose, nightshade, nut, soya and wheat free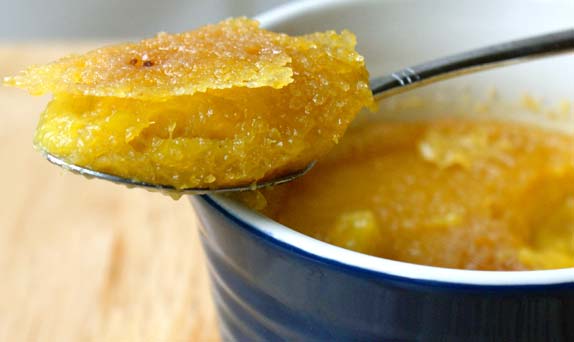 Serves 4
240g mango, pureed
250ml coconut cream
75g golden caster sugar
15g cornflour, sifted
4 heaped tsps brown sugar
Preheat your oven to its highest temperature and boil the kettle. Mix 2 tbsps of mango puree with the cornflour until there are no lumps. In a large bowl, combine the rest of the mango puree, coconut cream, caster sugar and cornflour mixture until smooth.
Divide between 4 ramekins or heatproof cups and place in a roasting tin and pour boiling water from the kettle into the roasting tin to reach halfway up the side of the ramekins.
Place the ramekins in their bain marie in the oven and turn the temperature down to 180°C. Cook for 30 minutes until set.
Once cooled, sprinkle a heaped teaspoon of brown sugar over each mango pot and place under a very hot grill until the sugar melts and bubbles. Leave to cool to allow the sugar to form that oh-so-satisfying crust.
'Elvis' Cookies
Corn, dairy, egg, gluten, lactose, nightshade, soya and wheat free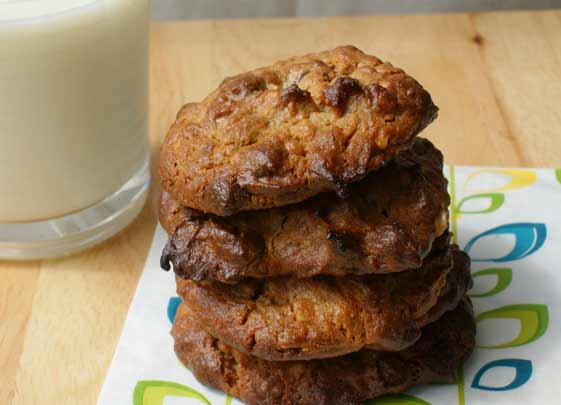 Elvis Presley was rumoured to love peanut butter and banana sandwiches. I think he'd have liked these gluten free, dairy free and egg free cookies!
Makes about 12 cookies
250g unsweetened peanut butter (an organic, chunky one is ideal)
100g golden caster sugar
50g Demerara sugar
55g ripe banana, mashed
1tsp baking powder
50g plain chocolate chip (optional)
1/2 tsp vanilla bean paste, or vanilla extract
Combine all ingredients until well mixed.
Roll the mixture into a thick sausage shape and wrap in cling film. Chill in the fridge for about 15 minutes.
Remove cookie dough from the fridge and slice into 1cm slices, place on a baking sheet. Bake in a pre-heated oven at 180°C for 15 minutes.
Leave to cool before removing from the baking sheet.

Click here for more guest recipes