Recipes from Riverford Organic Farms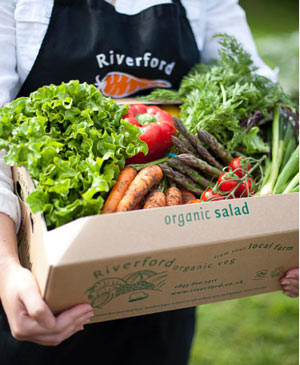 The Riverford box scheme began when Guy Watson started delivering vegetables locally to 30 friends in Devon. They now deliver around 47,000 boxes a week to homes around the UK from their regional farms. As demand grew, the challenge was to find a way of embracing it whilst sticking to what the vegbox scheme was all about – local growing and employment and a friendly, personal service.

The solution was to find other farmers who shared their ethos. They now have 4 Riverford farms, all growing, packing and delivering vegboxes locally (the original farm in Devon, plus Hampshire, Cambridgeshire and Yorkshire). Between the sister farms they now cover most of England and South Wales. Their vegboxes are on average 20% cheaper than supermarket organic veg and customers cite "freshness and flavour" as the main reason for buying from them.

Every week they give customers seasonal recipes in a newsletter in their vegbox to help them use up every last leek. They also have a large database of recipes on their website. While the recipes are not generally specifically free-from (although some are), being heavily fruit and veg based many are suitable for restricted diets and others are simple to adapt.

See here for more Riverford recipes.
For more details about Riverford's boxes check out www.riverford.co.uk
Riverford recipes
Click on the name of the recipe to go to it.
Gluten-free cauliflower & almond gratin

Vietnamese spring green rolls with sesame soy dipping sauce

Rooty coconut dal with sticky rice

Strawberry & elderflower bubbly jellies
Gluten-free cauliflower & almond gratin
Gluten free, egg free, soya free, vegetarian

Keep the lighter green leaves on your cauliflower for colour and flavour. Serve with rice or quinoa and cooked kale or cabbage, or roasted roots. Using a whisk to make any béchamel or cheese sauce is easier and gets a smoother result than stirring with a spoon.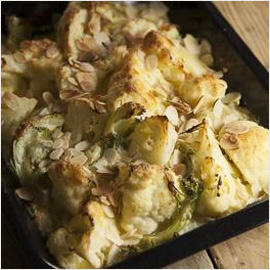 Serves 4

Ingredients:
1 large caulilower, cut in ½ then each ½ into 6-8 large wedges,
keeping the stalk & any lighter inner leaves intact
50g butter
50g rice flour (or use another starchy gluten-free flour, eg. potato)
500ml unsweetened almond milk
100g grated cheddar cheese, plus a little extra for sprinkling
1 heaped tsp dijon mustard (check it doesn't have any gluten)
2 small handfuls flaked almonds
Preheat your oven to 220?C/200?C fan/gas mark 6.
Steam or boil the caulilower and leaves for 4 mins.
Drain and put to one side, so any excess moisture evaporates of. Meanwhile, melt the butter in a pan.
Add the flour and stir on a very low heat for 2 mins.
Remove from the heat, add 3-4 tbsp of the almond milk and whisk together to make a thick smooth paste.
Gradually add the rest of the milk, whisking all the time, until the sauce is smooth.
Return to the heat, add the cheese and gently heat for a few mins, until the cheese has melted and the sauce thickened.
Stir in the mustard and season to taste.
Put the caulilower in a baking dish. Pour over the sauce and sprinkle over a little extra cheese.
Bake for 15 mins.
Sprinkle over the almonds and bake for a further 10-15 mins or so, until the almonds are golden.



Vietnamese spring green rolls with sesame soy dipping sauce
Gluten free, dairy free, nut free, vegetarian
Spring roll wrappers are available in the asian food section of some supermarkets as well as in health food shops.
Serves 4

Ingredients: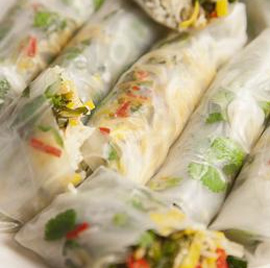 100g rice noodles
1 tbsp sesame oil
2 tbsp oil for frying at a high heat
½ large leek, finely shredded
200g spring greens, shredded, tough stalks removed
1 tbsp fresh ginger, grated
2 garlic cloves, finely chopped
1 chilli, finely chopped
1 tbsp gluten free soy sauce
1 tbsp rice wine vinegar
small handful coriander, chopped
small handful fresh mint, chopped
8 rice spring roll wrappers

for the dipping sauce:
2 tbsp gluten free soy sauce
1 tbsp rice wine vinegar
½ tsp caster sugar
1 red chilli, finely chopped
1 tbsp sesame seeds, toasted in a dry pan until golden
2 tbsp cold water
Cook the noodles according to the packet. Drain, put in a bowl and toss in sesame oil, then leave to one side.
Heat the frying oil in a wok and fry the leek for a couple of minutes.
Add the greens, ginger, chilli and garlic for 2-3 minutes. Add the soy and rice wine vinegar.
Have a heatproof bowl of hot water and a bowl of cold water ready.
Dunk a wrapper in the hot water for a few seconds until it starts to wilt. Remove with tongs, dunk in the cold water, then lay on a work surface.
Layer on some noodles, then spring greens, then herbs.
Fold in each edge and roll into a cylinder shaped parcel. Repeat with the rest of the wrappers.
To make the dipping sauce, whisk all the ingredients together. Serve alongside.
Rooty coconut dal with sticky rice
Gluten free, dairy free, nut free, vegetarian
Healthy, colourful and the turmeric and ginger are good for digestion. Organic coconut oil is available to order alongside your vegbox. It's good in stir fries and curries, or for roasting veg for a slightly different flavour.
Serves 2
Ingredients:
300g mixed root veg (peeled & diced weight)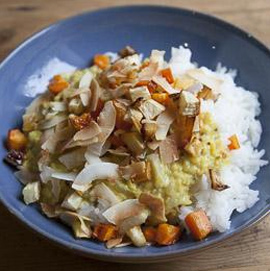 coconut oil for frying
100g jasmine rice
1 onion, finely sliced
2 garlic cloves, finely chopped
4cm fresh ginger, peeled & grated
¼ tsp turmeric
1 crumbled dried chilli, or a good pinch or two of chilli flakes
1 tsp black mustard seeds
1 tsp cumin seeds, toasted & ground
1 tsp coriander seeds, toasted & ground
100g yellow mung dal lentils or red lentils, rinsed
1x 400ml tin coconut milk
handful coriander leaves (optional)
1 lime or lemon
toasted coconut chips or desiccated coconut to garnish
Preheat your oven to 200?C/180?C fan/gas 5.
Put the veg in a baking dish with 1 tbsp coconut oil.
Pop in the oven for 5 mins, then remove and toss the veg in the melted oil.
Roast for approx 20-25 mins, until tender and starting to colour.
Meanwhile, put the rice in a pan with 500ml water and a good pinch of salt.
Cover and boil for 10 mins, then turn off the heat and leave it covered to steam.
Heat 1 tbsp coconut oil in a pan. Add the onion and fry on a low heat for 10 mins, stirring now and then.
Turn up the heat slightly and add the garlic, ginger, turmeric, chilli and mustard seeds. Stir for approx 1 min, until the mustard seeds start to pop.
Add the cumin, coriander, lentils and coconut milk (stir the tin first). Refill half the tin with water and add that too.
Bring up to the boil, reduce the heat and simmer for 20 mins or so, until the lentils are soft.
Season with salt and pepper, stir in the fresh coriander if using and add a squeeze of lime or lemon juice to taste.
Fluff up the rice with a fork; all the liquid should be absorbed and the rice sticky.
Serve the dal on the rice, with the roasted roots, sprinkled with toasted coconut.




Strawberry & elderflower bubbly jellies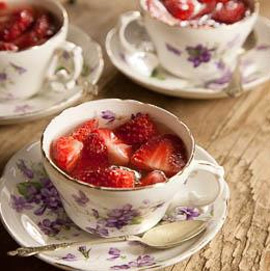 Gluten free, dairy free, soya free, nut free

Serve in small bowls, teacups or glasses.
Serves 4
Ingredients:
1 bottle luscombe elderflower bubbly, chilled in the fridge
200g strawberries, cut into quarters or sliced, chilled in the fridge
1x 12g sachet gelatine powder (or a 6.5g pack of vegetarian gel)
Drizzle
Juice 1½ lemons
85g caster sugar
Pour 120ml just-boiled water into a large heatproof jug or bowl.
Stir in the gelatine, mixing well to dissolve all the powder. If it doesn't all dissolve, put in a heatproof bowl over a pan of simmering water, and stir until it does.
Add 450ml elderflower bubbly and stir well (you get to drink the rest!).
Divide the strawberries between your bowls. Pour over the elderflower mixture.
Wait for a minute or two to let the mixture settle, then dab away any froth with kitchen paper.
Chill until set, approx 1 hour.