Tofu Burgers
Egg, gluten, lactose, milk, nut, peanut, sesame & wheat free
These are very robust and hold together well. I patted mine in polenta before cooking but I think this makes the outside a little dry so I wouldn't bother next time.
Makes 8 burgers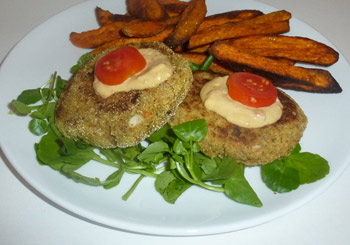 Ingredients
half a small cabbage, shredded
1 onion, chopped
450g firm tofu, drained
2 carrots, grated
170g mushrooms, wiped
1 tbsp wheat free soya sauce
1 tsp mild chili powder
4-6 tbsp fine polenta (cornmeal)
vegetable oil for frying
Method
Steam the cabbage until cooked, drain and whizz in a food processor.
Heat a little oil in a frying pan and saute the onions over a low heat until transluscent.
Add the onions to the cabbage.
Add more oil to the frying pan and saute the mushrooms until soft.
Tip the mushrooms in with the onions and cabbage.
Add the carrots and the tofu, broken into chunks.
Add the soya sauce and chilli powder and whizz everything until you have a dough.
Remove the mixture from the food processor and tip into a bowl.
Add the polenta 1 spoon at a time, just until the dough can be formed into burger shapes.
Heat some oil in the frying pan and roll the mix into 8 balls.
Flatten them a little in your hands, then a little more as you place them in the frying pan.
Fry a little on each side until lightly browned.
Serve with chips and a salad or in a gluten free roll.
We have over 800 delicious freefrom recipes on this site all of which are gluten free, most of which are dairy and lactose free and many of which are free of most other allergens. Please go to the following sections to try them out: