Michelle's FreeFrom Swede and Chickpea Mush
Wheat, gluten, corn, soya, nightshade, egg, dairy & nut free
This is really tasty. You could eat it by itself as a vegetarian dish
or serve with a meat or fish dish.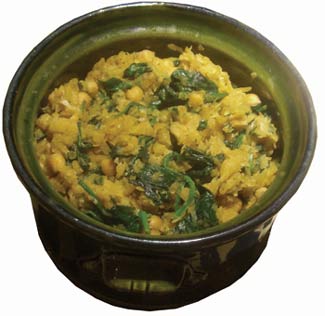 4 tbsp olive oil
500g / 1lb 2oz swede (rutabaga), peeled and
grated (shredded)
2 large leeks, trimmed and sliced thinly
400g /14oz tin (can) chickpeas, drained
200g / 7oz fresh spinach, washed and trimmed
sea salt and freshly ground black pepper
Heat the oil in a heavy pan and add the swede (rutabaga) and leeks. Fry gently for a couple of minutes then cover the pan, turn down the heat and sweat for 30–40minutes or until the vegetables are well cooked. Add the chickpeas and the spinach and mix in well.
Continue to cook for a few minutes to allow the spinach to wilt then season to taste with sea salt and freshly ground black pepper.
Serves 6 – per portion
117cals – 7g protein – 4g total fat - 0.4g sat / 1.5g mono / 1g poly
15g carbohydrate of which 6g sugar
5g fibre – 63mg sodium / 0.15g salt
133mg calcium
Good Source of: Vitamin B6
Back to more freefrom vegetable and vegetarian recipes