FreeFrom Summer Omelette
Wheat, gluten, corn, soya, cow's milk & nut free
Very delicious, very easy, very flexible (you can add or subtract ingredients as you feel inclined) – and as good cold as hot. However, if making for six, you may need to use two pans.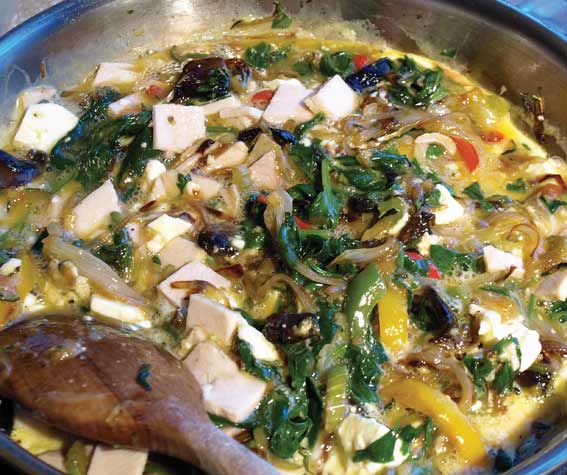 6 tbsp olive oil
3 medium onions, sliced thinly
2 sticks celery, washed and chopped
1/2 each of a red, green and yellow (sweet) pepper, sliced thinly
6–8 mushrooms, sliced
1 medium courgette (zucchini), grated (shredded) coarsely
150g / 5oz baby spinach leaves
large handful parsley
10 eggs
sea salt and freshly ground black pepper
4 slices of chicken or ham, cut into small pieces
150g / 5oz sheep's milk feta, crumbles
Heat the oil and add the onions, celery and peppers and cook gently till they are starting to soften.
Add the mushrooms and courgettes and continue to cook till the latter are softening, then add the spinach and parsley and stir around for a minute till the spinach wilts.
Beat the eggs in a bowl, season, add the meat and cheese and immediately tip into the pan and stir round well to mix.
Increase the heat slightly and cook for 2–3 minutes or until the egg is set.

Serves 6 – per portion
370cals – 24g protein
28g total fat – 8g sat / 14g mono / 2.5g poly
7g carbohydrate of which 6g sugar
2g fibre – 559mg sodium / 1.4g salt
213mg calcium
Good Source of: Vitamin B2, B6, B12, C, calcium, iron & zinc
Back to more freefrom vegetable and vegetarian recipes