Michelle's FreeFrom roasted red onion and beetroot with sweet potato and ginger
Corn, dairy, egg, gluten, lactose, nightshade, nut, soya and wheat free
An amazingly coloured dish of roast vegetables – so easy – and so delicious!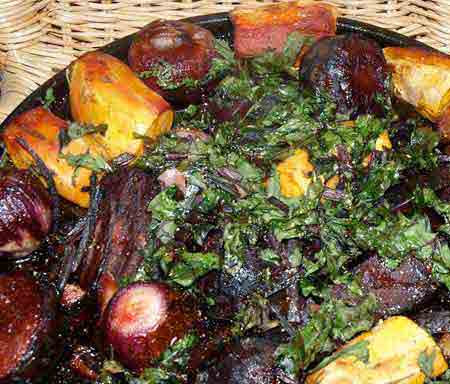 4 medium red onions, peeled but left whole
4 medium raw beetroot (beets) with their leaves and stems, if possible – scrubbed and halved
2–4 sweet potatoes, depending on size, peeled and halved or quartered
1 sizeable knob of fresh ginger, its size depending on how keen you are on ginger – peeled
approx 6 tbsp olive oil
sea salt and freshly ground black pepper
100g / 4oz of trimmed curly kale or mature spinach leaves, chopped, or 70g / 3oz finely sliced Savoy cabbage if you could not get the beet leaves and stalks.
Heat the oven to 180C/350F/Gas mark 4.
Scatter the onions, beets and sweet potato around a baking dish. If you have the beet stalks, chop them into 5cm (2") pieces, reserving the leaves, and scatter over the vegetables.
Grate the ginger into the olive oil and mix well, then use it to coat the vegetables allowing the extra to run into the bottom of the dish.
Cover the vegetables lightly with foil and bake for approximately 45 minutes or until they are nearly soft. Remove from the oven and turn the vegetables to ensure that they are well coated in the gingery oil every 15 minutes.
Remove the cover, turn the vegetables on more time and spread the chopped beet leaves, kale, spinach or cabbage over them. Lay the foil lightly over the top and return to the oven for a final 15 minutes before serving.
Serves 4 – per portion
Calories 325 Kcals
5g Protein
17g Fat (2.5g Sat fat, 12g mono, 2g poly)
39g Carbohydrate of which 20g Sugar
7g Fibre, 121g Sodium, 0.3g salt
108mg Calcium

Good Source: Vitamin B6, C, folate, potassium
Back to more freefrom vegetable and vegetarian recipes