Risotto with Jerusalem artichokes
Corn, egg, lactose, milk, nut, peanut, sesame, soya & wheat free; can be gluten free
This was originally created as a barley risotto but if you want to make it gluten free, you can substitute brown rice for the barley. Similarly, the original used anchovies but if you want it to be totally vegetarian, then leave the anchovies out and just use olive oil.
The flavours will be better if you cook it a day ahead of time and leave it to 'mature' in a cool place, but not necessarily in the fridge.
Serves 6–8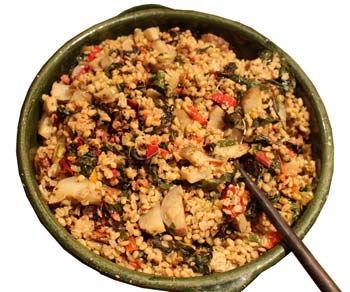 Ingredients
2/3 of a 7g tin anchovies, with their oil (if you are using anchovies), finely chopped; if you are not using anchovies, 4 tbsp olive oil
3 tbsp olive oil
1 large onion, finely chopped
4 large cloves garlic, finely sliced
3 red Romano peppers, sliced lengthways then cut into smallish, but not tiny, strips
a good shake - 2 level teaspoons - dried oregano
400g pearl barley or brown rice
1800ml stock (check the ingredients if using a proprietary brand)
4 large Jerusalem artichokes, very well scrubbed and trimmed
12-15 leaves of rainbow chard, ideally with plenty of brightly coloured stems
sea salt and freshly ground black pepper
Method
Heat the oil and the anchovies (if you are using them) in a large wide pan then add the onion, garlic, peppers and organo.
Fry gently for 10 – 15 minutes to all the vegetables have softened.
Add the barley or rice and half the stock. Bring to the boil, then reduce the heat and simmer briskly, adding extra stock as needed for 10 minutes.
(Depending on the size of your pan you may need to transfer half of the mixture into a second pan.)
Cut the artichokes in largish knobs and add to the risotto and continue to cook for a further 10 minutes, topping up the liquid as needed and tasting the barley or rice to see whether it is cooked.
Finally, slice the chard leaves roughly lengthwise, then slice crossways and add to the risotto and mix well in to the barley or rice.
Season to taste and remove from the heat when the barley or rice is just cooked and there is still some liquid in the pan. This will get absorbed overnight.
Serve at room temperature.
We have over 800 delicious freefrom recipes on this site all of which are gluten free, most of which are dairy and lactose free and many of which are free of most other allergens. Please go to the following sections to try them out: