Michelle's Freefrom Rice with Puy lentils and waterchestnuts
Corn, dairy, egg, gluten, lactose, nut, soya and wheat free - onion free
Although this sounds very solid, the combination of rice and lentils is actually delicious – and was the staple food of Moghul armies........ In this recipe the mixture is lifted by the addition of the water chestnuts and the mint.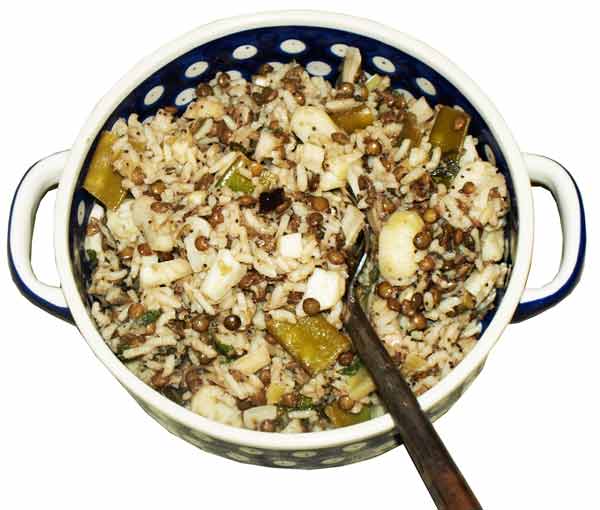 ½ tbsp coconut oil or 1 tbsp olive oil
1 stick celery, chopped very small
200g/7ozs basmati rice, well rinsed
½ tsp salt
600ml / 1 pt water or gluten and wheat free vegetable stock
½ tbsp coconut oil or 1 tbsp olive oil
½ a small aubergine, chopped into small dice
150g/6oz Puy lentils
600ml/ 1pint water or gluten and wheat free vegetable stock
scant tbsp tamari
2 tsp poppy seeds
½ head fennel, cut fairly small
225g/7oz tin water chestnuts, halved horizontally
100g /4oz mange tout, halved and steamed for 2 minutes only
4 tbsp olive oil
juice 2 lemons
sea salt and freshly ground black pepper
handful of fresh mint leaves, chopped
Heat the first coconut or olive oil in a wide pan and gently fry the celery until it isi quite soft– around 10 minutes.
Add the rinsed rice, stir well then add the salt and liquid. Bring to the boil and simmer briskly until the liquid is absorbed
Meanwhile, heat the second lot of oil in anther wdse pan and add the aubergines. Sauté gently for 10 minutes without burning or until they are quite soft. Add the lentils, liquid and tamari and simmer briskly until the lentils are cooked and the liquid absorbed.
Amalgamate the rice and lentils in a large bowl.
Add the fennel, water chestnuts and mange tout and then dress with the olive oil and lemon and season with salt and pepper
Just before serving, stir in the fresh mint leaves.
Serve at room temperature.
Back to more freefrom vegetable and vegetarian recipes