Michelle's FreeFrom Very Red Pepperonata
Wheat, gluten, corn, soya, dairy, egg & nut free
A vivid visual and gastronomic contrast to this cool egg salad!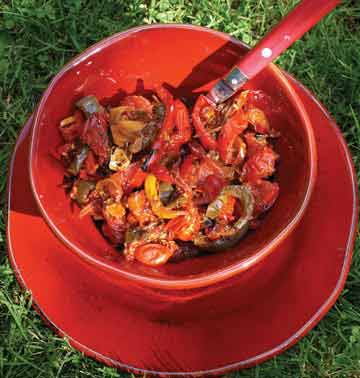 3 tbsp olive oil
3 red, 2 yellow and 1 green (sweet) pepper, deseeded and sliced
I head of garlic, peeled and the cloves sliced thinly
2 heaped tsps dried Italian herbs
30 mini-plum or cherry tomatoes, halved
sea salt and freshly ground black pepper
Heat the oil in a heavy pan and add the peppers,
garlic slices and the herbs. Cook very gently, uncovered, for 30–40 minutes or until the peppers are fairly soft.
Add the tomatoes, stir well and continue to cook gently for a further 30 minutes or until they are quite soft.
Season to taste if necessary and serve at room temperature.
Serves 6 – per portion
90cals – 1g protein
6g total fat – 1g sat / 4g mono / 1g poly
8g carbohydrate of which 7.5g sugar
2g fibre – 74mg sodium / 0.18g salt
12mg calcium
Good Source of: Vitamin B6 & C
Back to more freefrom vegetable and vegetarian recipes