Michelle's Freefrom quinoa with okra, chillies and green beans
Corn, dairy, egg, gluten, nightshade, nut, soy and wheat free
Nice as a lunch dish, a vegetarian main course with a green salad, or as a vegetable with meat or fish.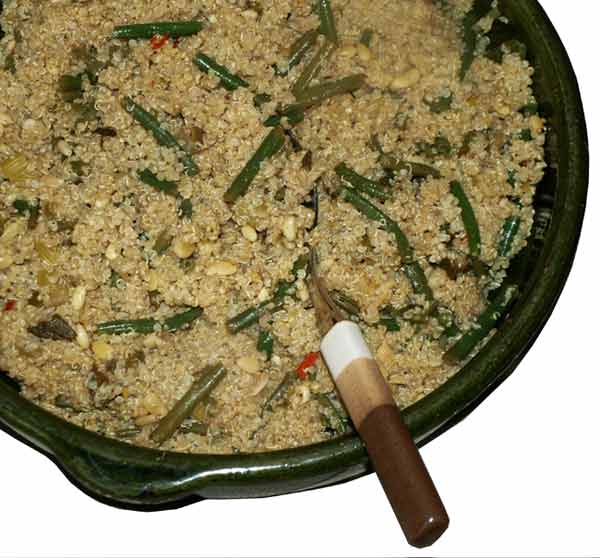 Serves 6
3 tbsp olive oil
6 large cloves garlic, peeled and sliced
8 okra, topped and tailed and cut into thick rings
3 red Bird's Eye (hot) chillies, pipped and cut into thin slices
4 sticks celery, cut into small dice
300g/10oz quinoa grains
1 litre/13/4 pits gluten and wheat free vegetable stock
sea salt and freshly ground black pepper
200g/7oz fine green beans, topped and tailed and halved
juice 2 lemons
100g/4oz pine nuts
Heat the oil in a large, wide pan and gently sauté the garlic slices, okra, chillies and celery for 10–15 minutes or until the celery is softening. Do not let them burn.
Add the quinoa grains, stir around then add the stock. Bring to the boil and simmer gently, uncovered, for approximately 10 minutes or until the quinoa grains are softening and the liquid around 2/3 absorbed.
Add the beans and continue to simmer until the quinoa is cooked and all the liquid absorbed.
Season to taste with sea salt, freshly ground black pepper and the lemon juice and stir in the pine nuts.
Serve at room temperature.
Back to more freefrom vegetable and vegetarian recipes