Michelle's FreeFrom Potatoes, Spinach and Eggs mollés
Corn, dairy, gluten, nightshade, nut & wheat free

So simple – but so delicious. Excellent for lunch or for a light supper – either warm or at room temperature.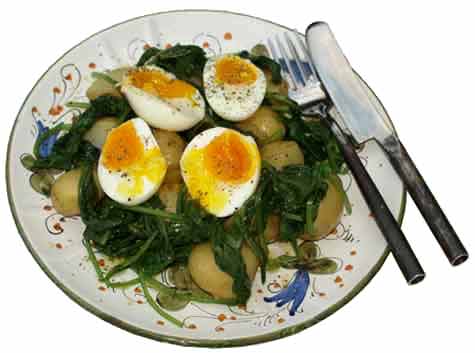 600g / 1lb 5oz small new potatoes, scrubbed
500g / 1lb 2oz fresh young spinach leaves
2–3 tbsp virgin olive oil
sea salt and freshly ground black pepper
6 or 12 eggs, depending on
whether you want
to serve one or two per head
Steam the potatoes for 8–12 minutes or until they are cooked.
Add the spinach to the steamer and turn off the heat so that the spinach leaves wilt in the heat of the potatoes. Turn onto a serving dish, mix the spinach into the potatoes, drizzle with the oil andgrate over some salt and pepper.
Meanwhile, bring a pan of water to the boil, lower in the eggs and cook for 4 to 4 1/2 minutes depending on the size of the eggs. Remove from the heat andplunge the eggs into cold water.
Carefully crack the shells and shell the eggs. Halve with a knife and place on top of the potatoes sothat the yolk runs down.
Grate over a little more black pepper and serve.
Serves 6 – per portion
211cals – 12g protein
11g total fat – 2.5g sat / 5.7g mono / 1.5g poly
17.4g carbohydrate of which 2.6g sugar
3g fibre – 213mg sodium / 0.5g salt
182mg calcium
Good Source of: Vitamin A, B6, B12, C & folic acid
Back to more freefrom vegetable and vegetarian recipes