Michelle's FreeFrom Haricot bean hotpot with beetroot
Corn, dairy, egg, gluten, lactose, nightshade, nut, soya and wheat free
The beetroot turns the beans a rather pretty pale pink colour – and gives them a lovely delicate flavour.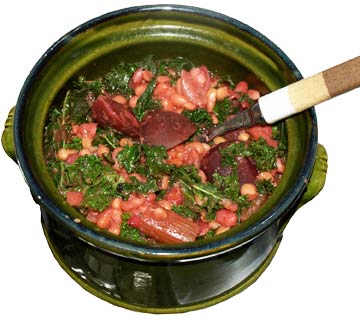 500g / 1lb 2oz dried haricot beans
2 tbsp olive oil
20 shallots or 10 small onions, peeled or
peeled and halved
50g / 2oz fresh ginger, peeled and cut into small matchsticks
4 stalks celery, cleaned and cut in large pieces
4 small-medium beetroots (beets), scrubbed and quartered
1 litre / 34fl oz vegetable stock
2 tsp black peppercorns
several bayleaves and 1 heaped tsp dried thyme
150g / 5oz curly kale, trimmed of all its tough stalks and chopped fairly small
sea salt
Soak the haricot beans over night in plenty of cold water. Drain them then put them in a large saucepan covered with fresh cold water. Bring to the boil and boil briskly, uncovered, for 10 minutes. Drain.
Meanwhile, in a heavy pan, heat the oil and briskly fry the shallots or onions, ginger and celery for 3-4 minutes. Add the beetroot (beets), beans, vegetable stock, peppercorns and herbs. Bring back to the boil, loser the heat, cover and simmer for 45 minutes – 1 hour or until the beans are cooked and most of the liquid absorbed.
Add the kale and continue to cook for a further few minutes, just to take the raw edges off the kale.
Season to taste before serving.
Serves 6 – per portion

Calories 337 Kcals
26g Protein
7g Fat (1g Sat fat, 3g mono, 1g poly)
48g Carbohydrate of which 7g Sugar
16g Fibre, 418g Sodium, 1g salt
207mg Calcium

Good Source: Vitamin B1, B6, Iron, magnesium, copper, zinc, calcium
Back to more freefrom vegetable and vegetarian recipes