Michelle's FreeFrom Okra with Onions
Corn, dairy, egg, gluten, nightshade, nut, soya and wheat free
The complaint usually levelled at okra is that it is too slimy but, cooked this way, as I recently had it in an Indian restaurant, it never gets a chance to get slimy – and is delicious!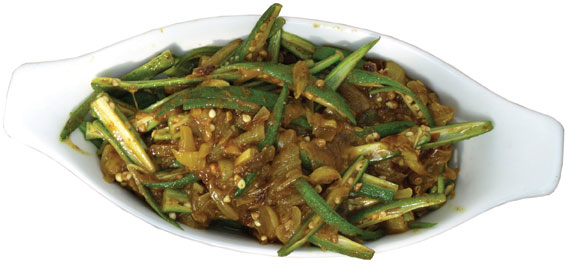 4 tbsp olive oil
2 heaped tsp cumin powder
2 large onions, peeled and chopped roughly
4–6 cloves garlic, depending on size, peeled and finely sliced
250g / 9oz okra, topped and tailed
Heat the oil in a heavy, wide pan with the cumin.
Add the onion and garlic and fry very gently for 15–20 minutes or until the onion is quite cooked.
Slice the okra lengthways into four or six matchsticks, depending on size.
Add to the onion, increase the heat slightly and cook very briefly – no more than a minute maximum.
Turn into a dish and serve at once.

Serves 6 – per portion
91cals – 2g protein
8g total fat – 1g sat / 5.5g mono / 1g poly
4g carbohydrate of which 3g sugar
2g fibre – trace sodium / trace salt
91mg calcium
Back to more freefrom vegetable and vegetarian recipes