Michelle's FreeFrom Okra with button mushrooms and cashew nuts
Corn, cow's milk, egg, gluten, lactose, nightshade, soya and wheat free; can be nut free
You can use this as a light lunch dish or as a vegetable with a meat or fish. The 'sliminess' which people sometimes associate with okra, disappears completely.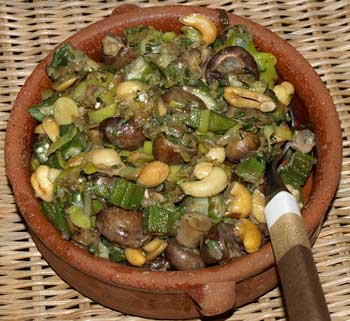 2 tbsp olive oil
2 medium leeks, trimmed and finely sliced
250g / 9oz okra, topped and tailed and sliced thickly
1 reasonable size courgette (zucchini), grated
(shredded)
250g / 9oz button mushrooms, wipe and halved if they are a bit big
80g / 3oz roasted, salted cashews nuts – if you cannot eat nuts, substitute with lightly roasted pine nuts, sunflower or pumpkin seeds
sea salt and freshly ground black pepper
optional – a handful of fresh dill, parsley or
coriander (cilantro), chopped small
Heat the oil in a heavy pan and add the leeks and okra. Cook briskly but without burning for a couple of minutes then add the grated courgette (shredded zucchini).
Continue to cook for another few minutes then add the mushrooms. Stir well, cover the pan and cook gently for a further five minutes.
Add the nuts then season to taste – you may not need much salt if you are using salted nuts.
Serves at once, sprinkled with a few fresh herbs if you wish.
Serves 4 – per portion
Calories 215 Kcals
8g Protein
17g Fat (3g Sat fat, 10g mono, 3g poly)
8g Carbohydrate of which 4g Sugar
5g Fibre, 67g Sodium, 0.17g salt
129mg Calcium

Good Source: Vitamin B1, B6, C, magnesium, copper, folate
Back to more freefrom vegetable and vegetarian recipes