Michelle's FreeFrom Puy Lentil, Ginger & Hazelnut Casserole
Dairy, wheat, gluten, corn, nightshade, onion & egg free; can be soya & nut free
A nice warming casserole for the autumn. Try to make it a day ahead so that the flavours get a chance to mature. If you cannot eat nuts, substitute pumpkin seeds for the hazelnuts.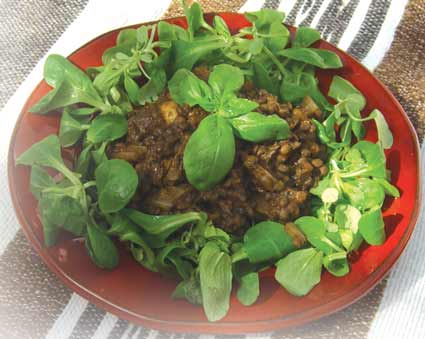 4 tbsp olive oil
4 large sticks celery, chopped roughly
75g / 3oz piece of fresh ginger, peeled
450g / 1lb sweet potatoes, peeled
150g / 5oz button mushrooms, wiped
300g / 11oz puy lentils
1.2 litres / 40fl oz miso or gluten/wheat
free vegetable stock
150ml / 5fl oz red wine
150g / 5oz hazelnuts
sea salt and freshly ground black pepper
Heat the oil in a heavy deep pan and
add the celery. Halve the peeled ginger and slice the halves thinly. Add to the celery and cook gently for 10 minutes.
Dice the sweet potatoes and add to the mixture. Cook for another 10 minutes.
Halve the mushrooms unless very small and add to the mixture. Cook for another 10 minutes.
Add the lentils along with the miso or stock and the red wine. Bring to the boil then reduce to a simmer and cook gently, uncovered, for 45-60 minutes or until the liquid is nearly all absorbed and the lentils are cooked.
If necessary add extra stock/miso.
Meanwhile, if the hazelnuts have skins, roast them in a medium oven (180C/350F/Gas mark 4) for 15 minutes or dry fry in a large pan. Turn into a clean teacloth and rub vigorously to remove most of the skins. Return the skinned nuts to the oven or pan and continue to roast/fry until they are lightly tanned.
If you are using pumpkin seeds, just roast/dry fry them until lightly toasted - be careful not to burn as it is difficult to see when then are done.
Add the nuts or seeds to the lentil mixture and season to taste.
Ideally, leave the casserole for at least 24 hours for the flavours to mature, then reheat, re-adjust the seasoning if it needs it, and serve with green vegetables or salad.

Serves 6 - per portion
482cals - 18g protein
25g total fat - 2.5g sat / 18g mono / 3g poly
45g carbohydrate of which 8g sugar
9g fibre - 157mg sodium / 0.4g salt
Good Source of: Vitamin B12, selenium
Back to more freefrom vegetable and vegetarian recipes