Tomato and Onion Tart
Egg, gluten, lactose, milk, nut, peanut, sesame & wheat free
I was excited to spot some Jus-Rol gluten free (and dairy free) puff pastry in Sainsbury's this week. The pastry comes as a ready rolled circle and so I was able to simply top it and bake. It didn't puff up hugely but it was lovely and crispy and held together well. All in all an excellent and useful product. The pastry ingredients are: water, corn starch, vegetable oils and fats (palm, rapeseed), rice flour, pea flour, vegetable fibres (pea, plantain, rice, psyllium, potatoes), thickeners: xanthan gum, hydroxypropyl methylcellulose; alcohol, salt, buckwheat flour, natural flavouring, flour treatment agent: transglutaminase; acidity regulator: citric acid.
Serves 4-6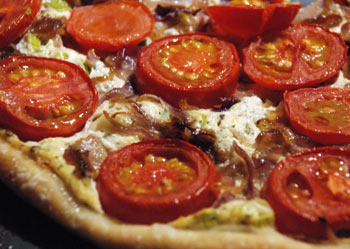 Ingredients
Jus-Rol gluten free pastry sheet
2 tbsp olive oil
2 red onions, halved and thinly sliced
1 tsp brown sugar
250g silken tofu
1 tsp Italian herb mix
4 spring onions, finely sliced
1 clove garlic, crushed
salt and freshly ground black pepper
6-8 medium size ripe tomatoes
Method
Preheat the oven to 200°C / 400°F / Gas mark 6.
Heat a tablespoon of oil in a frying pan and gently cook the onions until soft.
Add the sugar and cook for 10 minutes, stirring occasionally.
Whisk the tofu until smooth and then mix in the herbs, spring onions and garlic.
Season well with salt and pepper
Open out the pastry onto a baking sheet and score a border of 2cm all the way round.
Spread the tofu mix evenly all over, within the border.
Sprinkle the cooked onions all over the tofu.
Thickly slice the tomatoes and lay over the onions.
Drizzle the top with the rest of the olive oil and bake for about 30 minutes, until the crust is browned and crispy.
Serve immediately with a green salad.
We have over 800 delicious freefrom recipes on this site all of which are gluten free, most of which are dairy and lactose free and many of which are free of most other allergens. Please go to the following sections to try them out: