Tomato and Basil Tart
Gluten, lactose, milk, nut, peanut, sesame & wheat free
The filling of this tart is not cooked so it is simple to assemble and showcases ripe tomatoes and fresh herbs. I used Oast to Host pastry mix which has egg white in it. It was easy to handle and can be made sweet or savoury. The filling has no egg so egg free pastry would make the whole recipe egg free.
Serves 6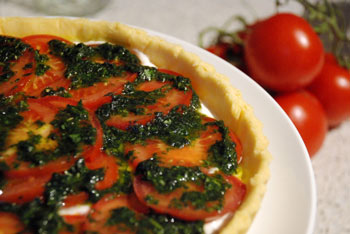 Ingredients
enough Freefrom pastry to line a 20cm tart tin
255g tub of soft cheese alternative
200ml Oatly oat fraiche (or more soft cheese alternative if you can't find it)
Zest of 1 lemon
small bunch of chives, snipped quite small
3-4 tomatoes, sliced
large handful of basil
1 clove garlic
3-4 tbsp olive oil
salt and freshly ground black pepper
Method
Preheat the oven to 200°C / Gas 6.
Roll out the pastry to about ½cm thick andline a greased loose bottomed 20cm flan tin.
Cover with baking paper and fill with baking beans.
Bake for 15-20 minutes until the pastry is firm and then remove the paper and beans.
Return the pastry to the oven and bake for a further 5-10 minutes until the pastry is lightly browned.
Set the pastry case aside to cool.
Mix the soft cheese with the oat fraiche.
Stir in the lemon zest and chives and season with salt and pepper.
Spoon into the cooled pastry and spread evenly.
Lay the tomato slices gently on top of the filling.
Whizz the basil and garlic together with enough oil to make a drizzling consistency.
Add salt and pepper to taste and drizzle over the tomatoes.
Carefully remove the tart from the tin and serve.
We have over 800 delicious freefrom recipes on this site all of which are gluten free, most of which are dairy and lactose free and many of which are free of most other allergens. Please go to the following sections to try them out: