Spiced Squash and Feta Tart
Gluten, lactose, milk, nut, peanut, sesame, soya & wheat free
I have been trying out the Oast to Host gluten and wheat free pastry mix. It is made from polenta, rice flour, potato starch, xantham and egg white. You add either butter, dairy free spread or vegetable fat and an egg. I used dairy free spread and found the dough came together easily and was quite robust - I managed to line a flan ring without the need for patching. The pastry looked good and had a nice crunch to it. This tart is delicious hot or cold.
Serves 8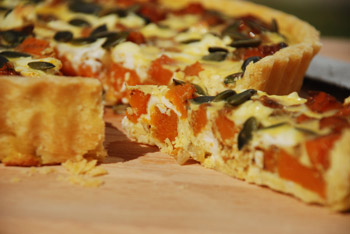 Ingredients
1 pack of Oast to Host pastry mix or 1 x 20cm pastry case
107g chilled dairy free spread / butter / veg fat
1 egg
Filling
1 tbsp olive oil
1 onion, sliced
1 tsp paprika
1 tsp ginger
½ tsp turmeric
½ tsp cinnamon
300g butternut squash, peedled and cubed
3 eggs
100g feta
100ml dairy free milk (I used unsweetened almond milk)
Freshly ground pepper
2 tbsp pine nuts or pumpkin seeds
Method
Rub the fat through fingertips into the pastry mix until you have breadcrumbs.
Add the egg and water and bring together to form dough.
Grease and line the base of a 20cm loose bottom tart tin.
Lightly dust your surface with gluten free flour and place the base of the tin in the middle
Roll out the pastry over the tin base and roughly 5cm larger in all directions.
Fold the edges gently onto the base and place the bottom back in the tin.
Fold the edges back out and press into the corners and sides.
Leave some overhang if possible to cut of neatly after cooking.
Cover with greaseproof paper and weight with baking beans.
Cook for 20 minutes, then remove the beans and paper and cook for another 10 minutes.
Heat the oil in a frying pan and cook the onion and spices over a medium heat until the onions are soft.
Turn the heat up and add the squash.
Cook for a couple of minutes and then add a cup of water and simmer until all the liquid has gone.
Allow the pastry case and squash to cool a little before assembling the tart.
Cube half the Feta and place in the tart.
Spread the squash evenly around the Feta.
Mash up the rest of the Feta and whisk with the eggs, milk and pepper.
Pour the egg mix over the top and sprinkle over the pine nuts or pumpkin seeds.
Bake for 25-30 minutes until the egg is cooked.
We have over 800 delicious freefrom recipes on this site all of which are gluten free, most of which are dairy and lactose free and many of which are free of most other allergens. Please go to the following sections to try them out: