Spinach and Mushroom Souffle
Gluten, lactose, milk, nightshade, nut, peanut, sesame & wheat free; can be corn & soya free depending on spread and milk used
Serves 4 as a main or 6 as a side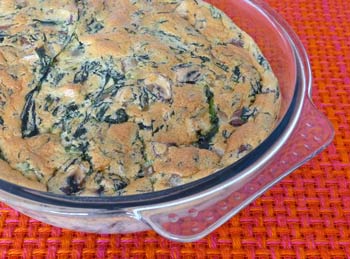 Ingredients
450g frozen spinach, defrosted
250g mushrooms
1 onion
1 tbsp olive oil
60g dairy free spread
50g gluten free flour
250ml dairy free milk
salt and freshly ground pepper
good pinch of freshly grated nutmeg
3 eggs, separated
¼ tsp cream of tartar
Method
Drain the spinach and press in a sieve to remove as much water as possible.
Chop the mushrooms and the onion quite small.
Heat the oil in a wide pan and gently cook the mushrooms and onions until soft over a low heat, stirring regularly to stop them burning.
Once they are cooked down, remove from the heat.
Meanwhile heat the spread in a medium saucepan until melted.
Stir in the flour until you have a dry paste.
Slowly add the milk while continuing to stir.
Season well with salt and pepper.
When you have a smooth thick sauce, remove the pan from the heat.
Whisk the egg yolks until frothy and stir into the sauce.
Stir in the spinach, nutmeg, mushrooms and onions.
Preheat the oven to 180°c / gas 4.
Oil a medium casserole dish and fill a deep tray (that will fit the casserole dish) with about 2cm boiling water.
Whisk the egg whites with the cream of tartar until you have stiff peaks.
Mix a quarter of the egg whites into the spinach.
Gently fold in the rest of the egg whites with a metal spoon.
Gently pour the mix into the casserole dish and place it into the water tray.
Carefully put the dishes in the oven and bake for 50-60 minutes until the egg has set and the top is lightly browned.
We have over 800 delicious freefrom recipes on this site all of which are gluten free, most of which are dairy and lactose free and many of which are free of most other allergens. Please go to the following sections to try them out: