Sesame Greens
Corn, egg, gluten, lactose, milk, nightshade, nut, peanut & wheat free
Serves 4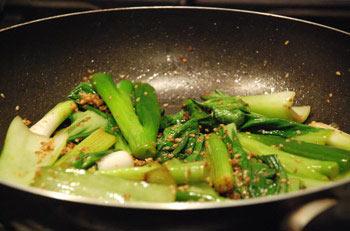 Ingredients
4 spring onions
4 small pak choi or 2 large ones
1 tbsp sesame oil
3 tbsp sesame seeds
1 tbsp sugar
1 tbsp gluten free tamari
3 tbsp water
3 tbsp lemon juice
Method
Cut the root from the spring onions and trim off any dry ends or sad leaves.
Cut the onions into three.
Cut the base off the pak choi and separate and wash the leaves.
Cut the stalks off and put them with the spring onions.
Heat a frying pan and toast the sesame seeds for a minute or two.
Remove a tablespoon of the seeds and grind the rest in a pestle and mortar or with the end of a rolling pin.
In a small bowl, mix both lots of sesame seeds, sugar, tamari, water and lemon juice.
Heat the oil in the frying pan and add the spring onions and pak choi stalks.
After 2 or 3 minutes, add the pak choi leaves and cook until starting to wilt.
Pour over the sesame dressing and serve straight away.
We have over 800 delicious freefrom recipes on this site all of which are gluten free, most of which are dairy and lactose free and many of which are free of most other allergens. Please go to the following sections to try them out: