Orange and Walnut Salad
Corn, egg, gluten, lactose, milk, peanut, sesame, soya & wheat free
You could always replace the walnuts with pumpkin seeds if you can't eat walnuts or don't have any in.
Serves 4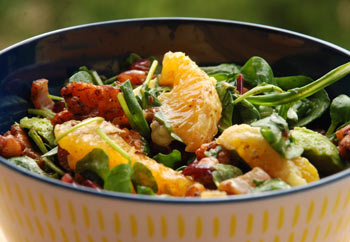 Ingredients
1 tsp + 2 tbsp olive oil
1 tsp chilli powder
2 large handfuls of walnut pieces
½ red onion, finely sliced
80g mixed watercress, spinach and rocket
1 orange
1 avocado
1 tbsp orange juice
1 tsp dijon mustard
salt and freshly ground black pepper
Method
Heat the teaspoon of olive oil in a frying pan and then add the chilli powder.
Cook through for a few minutes and then add the walnuts.
Stir them around so they are coated in the chilli and continue to cook for a few minutes.
Add the onion to the pan and cook until it has started to soften but is not completely cooked.
Peel the orange and cut out the segments.
Squeeze the rest of the orange and reserve the juice.
Half the avocado and use a spoon to take out rough pieces.
In a large bowl mix the nuts mix, leaves, orange segments and avocado.
In a lidded jar put 2 tbsp olive oil, 1 tbsp of the reserved orange juice, the mustard and salt and pepper.
Put the lid on and shake until thoroughly blended.
Check the seasoning and stir through the salad.
We have over 800 delicious freefrom recipes on this site all of which are gluten free, most of which are dairy and lactose free and many of which are free of most other allergens. Please go to the following sections to try them out: