Leek, Squash and Feta Tart
Egg, gluten, lactose, milk, nightshade, nut, peanut, sesame, soya & wheat free
I came across some own brand ready-rolled free from puff pastry in Asda this week and decided to give it a try. It is wheat, gluten, dairy, soya and egg free and it comes wrapped in it's own baking paper so you just have to unroll and bake. The pastry was crispy and tasted good but it didn't puff very much and wasn't nearly as brown as the picture on the box! I may try it again with an egg wash to see if that helps the colour. Despite the lack of puff it was super simple to use and held together really well. Beware that the box states it is not suitable for freezing.
Serves 4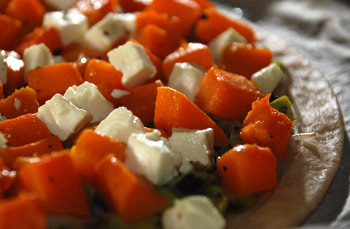 Ingredients
1 pack ready-rolled free from puff pastry
1/2 medium squash
1 tbsp olive oil
1 tsp sage
1 tsp thyme
4 leeks, cleaned, halved and sliced
salt and freshly ground pepper
100g sheep's milk feta
Method
Preheat the oven to 180c / gas 4.
Peel and core the squash and chop into chunks.
Place the chunks into a baking tray and drizzle with 1 tbsp oil.
Mix in the herbs and bake for 30-40 minutes until the pieces give when you stick a knife in.
Put the cooked squash aside to cool but leave the oven on.
When the squash is cool, chop it into smaller pieces, about 1cm square.
Heat 1 tbsp oil in a wide pan with a lid.
Add the leeks and cook very gently.
Put the lid on for the first 5 minutes and then stir regularly to stop them browning.
Season well with salt and pepper and set aside to cool.
Unroll the pastry with it's baking paper place on to a baking sheet.
Bake the pastry for 8-10 minutes until it is starting to brown.
Remove from the oven.
Spread a thin layer of the leeks and squash over the pastry, leaving a 1cm border.
Cut the feta into small pieces and sprinkle over the top.
Place back in the oven for about 5 minutes until everything is warmed through and the pastry is completely cooked.
Serve hot or cold.
We have over 800 delicious freefrom recipes on this site all of which are gluten free, most of which are dairy and lactose free and many of which are free of most other allergens. Please go to the following sections to try them out: