Fragrant Potato and Lentil Stew
Corn, egg, gluten, lactose, milk, nut, peanut, sesame, soya & wheat free
This is not a hot dish, especially with the addition of yogurt. You could easily turn it into a soup by adding more water or stock.
Serves 4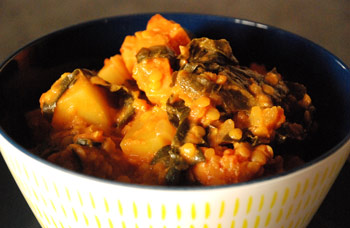 Ingredients
1 tbsp oil
1 onion, chopped
2 cloves of garlic, crushed
3cm ginger, peeled and finely grated
1 tsp ground coriander
1 tsp ground cumin
1 tsp smoked paprika
½ tsp ground turmeric
½ tsp chilli powder
1 can of tomatoes
2 medium sweet potatoes, peeled and cubed
2 potatoes, peeled and cubed
150g red lentils
1 tbsp maple syrup
100g spinach or similar leaf, washed and roughly chopped
4 tbsp dairy free yogurt
Method
Heat the oil in a large saucepan and then add the onion.
Allow the onion to soften before adding the garlic and spices.
Keep stirring while they cook for a minute or two.
Then add the tomatoes, sweet potatoes, potatoes, lentils and maple syrup.
Refill the tomato can with water and add to the pan.
Bring to the boil and then reduce the heat and put a lid on.
Cook for about 20 minutes until everything is nearly cooked.
Add the spinach and yogurt and cook for a further 5 or so minutes until the spinach has wilted completely.
Serve immediately.
We have over 800 delicious freefrom recipes on this site all of which are gluten free, most of which are dairy and lactose free and many of which are free of most other allergens. Please go to the following sections to try them out: