Baked Fennel and Olive Risotto
Corn, egg, gluten, lactose, milk, nightshade, nut, peanut, sesame, soya & wheat free
Serves 2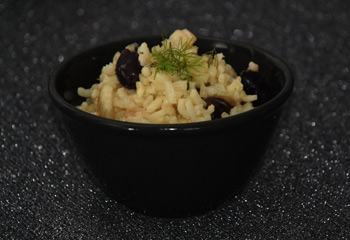 Ingredients
2 tbsp olive oil
knob of dairy free spread / coconut oil
200g risotto rice
1 onion, finely chopped
750ml vegetable stock
100ml sherry / white wine / veg stock
1 bulb fennel
2 cloves garlic, thinly sliced
4 tbsp black olives
2 tbsp olive oil
salt and freshly ground pepper
Method
Preheat the oven to 180°C / Gas 4.
Put an ovenproof, lidded dish in the oven.
Heat 1 tbsp oil and the dairy free spread in a large saucepan and gently cook the onion until softened.
Add the rice and stir through the oil until coated.
Cook for a few minutes and then add the sherry and stock.
Bring to the boil and then pour into the dish that has been heating in the oven.
Put the lid on the dish and cook for 25 minutes.
You can use the same saucepan as before to heat the rest of the oil.
Chop the fennel into quarters and then slice it.
Gently cook the fennel and garlic until the fennel is tender and then remove from the heat.
Remove the rice from the oven and give it a stir.
Stir the fennel and garlic through the rice along with the olives.
Season well with salt and pepper.
If there is too much liquid, leave the lid off when you put the risotto back in the oven for 5-10 minutes to make sure the rice is cooked and everything is hot.
Otherwise, put the lid on to stop it from drying out.
Serve immediately.
We have over 800 delicious freefrom recipes on this site all of which are gluten free, most of which are dairy and lactose free and many of which are free of most other allergens. Please go to the following sections to try them out: