Courgette Ribbon Salad
Corn, egg, gluten, lactose, milk, nightshade, nut, peanut & wheat free
You can eat this as a side salad or stir it though noodles for a light main course.
Serves 2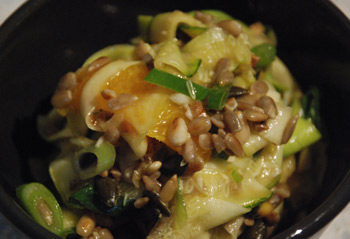 Ingredients
1 courgette
1 orange
2 spring onions
2 tsp sesame oil
1 tsp rice vinegar
1 tsp wheat free tamari
3 tbsp salad sprinkles (sunflower & pumpkin seeds and pine nuts)
Pepper
Method
Using a potato peeler, slice the courgette into thin ribbons - you can keep the skin or not as you like.
Place the strips in a bowl.
Peel the orange, cut out the segments and add to the courgette.
Slice the spring onions finely and add to the bowl.
Pour in the sesame oil, rice vinegar and tamari and stir through.
Lightly toast the salad sprinkles in a dry frying pan until starting to brown.
Stir the sprinkles through along with some pepper.
If possible leave the flavours to develop for a little while before serving.
We have over 800 delicious freefrom recipes on this site all of which are gluten free, most of which are dairy and lactose free and many of which are free of most other allergens. Please go to the following sections to try them out: