Egg Free Courgette Pancakes
Egg, gluten, lactose, milk, nightshade, peanut, sesame & wheat free; can be soya & nut free
Despite being eggless, these pancakes are tasty and hearty. The gram flour gives a lovely savoury flavour. You could easily add some herbs or spices to the batter if you fancy. Eat them as they are or fill with fresh salad or some cooked vegetables.
Makes 6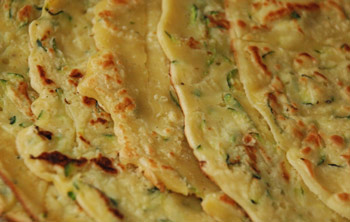 Ingredients
150ml gram (chick pea) flour - check that it is gluten free
230ml soya / nut / goats milk
2 tbsp olive oil
1 medium courgette
salt and pepper
oil for frying
Method
Whisk together the flour and milk until smooth.
Beat in the olive oil and place in the fridge to chill.
Grate the courgette on a medium size grater.
Stir the courgette into the batter along with plenty of salt and pepper.
Add a little oil to a frying pan over a medium high heat.
Add a ladle of batter to the pan and spread out with a spoon so that it is round and even.
Wait until the edges start to brown and then carefully turn until both sides are lightly browned.
Serve immediately on their own or with a filling of your choice.
We have over 800 delicious freefrom recipes on this site all of which are gluten free, most of which are dairy and lactose free and many of which are free of most other allergens. Please go to the following sections to try them out: