Chickpea and Almond Salad
Corn, egg, gluten, lactose, milk, peanut, sesame, soya & wheat free
A warm, fresh salad with a crunch and a kick.
Serves 4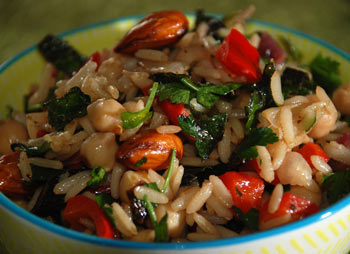 Ingredients
1 red pepper, chopped
2 red onions, chopped
1 tsp oil
2 handfuls whole almonds
1 tsp dried chilli flakes
25g fresh parsley
50g fresh mint
8 sunblush tomatoes, chopped
500g (4 portions) freshly cooked rice
3 tbsp extra virgin olive oil
1 tbsp lemon juice or white wine vinegar
salt and freshly ground black pepper
Method
Heat the oil in a wide pan and gently cook the pepper and onions for about 5 minutes.
Add the almonds and chilli flakes and cook for another 5 minutes.
Tip the cooked pepper mix into a large bowl.
Chop the parsley and add to the bowl.
Remove the leaves from the mint stalks, chop and add to the bowl.
Add the tomatoes and warm rice and give everything a good stir.
Whisk the olive oil, lemon juice and salt and pepper.
Pour over the salad and gently mix through.
You could also add a little of the oil from the tomatoes if they came in some.
We have over 800 delicious freefrom recipes on this site all of which are gluten free, most of which are dairy and lactose free and many of which are free of most other allergens. Please go to the following sections to try them out: