Cabbage Wrapped Rice Bake
Corn, egg, gluten, lactose, milk, nut, peanut, sesame & wheat free
You could add some flaked almonds or seeds to the top for the final 10 minutes of cooking to add an attractive look and tasty crunch.
Serves 4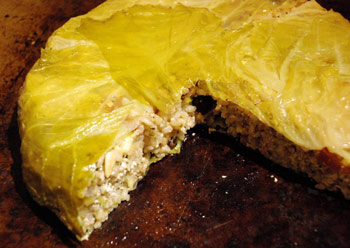 Ingredients
8 – 10 large cabbage leaves

200g cooked short grain brown rice

1 tbsp olive oil

1 onion, finely chopped

1 tsp dried thyme

1 tsp dried oregano

1 tsp dried mint

250g tofu

70g black olives, pitted and halved

70g toasted pine nuts

2 tomatoes, chopped

1 courgette, grated

zest of 1 lemon

salt and pepper
Method
Wash the cabbage leaves and cut out the large bit of the stem.

Steam for 5 minutes until softened.

Drain on a tea towel to remove excess water.

Heat the oil in a frying pan and gently cook the onion and herbs until the onion is soft.

Crumble in the tofu and stir in the rest of the ingredients.

Grease a 20cm spring form cake tin and line with the cabbage leaves.

Make sure the leaves that line the sides hang over the top of the tin so that they can wrap over the top of the rice.

Fill the tin with the rice mixture and pat down firmly with a spoon.

Fold over the leaves from the sides so they cover the top.

Place on a baking tray and bake for 20 minutes.

Remove the sides of the tin and carefully turn the bake upside down onto the baking tray.
Remove the bottom section of the tin and put bake into the oven for another 15 minutes.
We have over 800 delicious freefrom recipes on this site all of which are gluten free, most of which are dairy and lactose free and many of which are free of most other allergens. Please go to the following sections to try them out: