Broccoli with Tofu and Cashews
Corn, egg, gluten, lactose, milk, peanut & wheat free
My tofu was less firm than I had expected so didn't retain it's cubes but this didn't affect the flavour.
Serves 2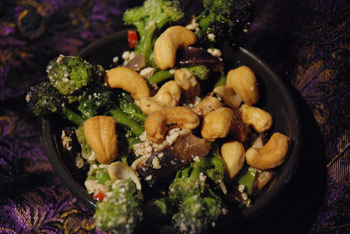 Ingredients
349g block of firm tofu, cubed
2 tsp sesame oil
2 tbsp wheat free tamari
1 cm of finely grated ginger
350g tenderstem broccoli
2 tbsp oil
1 onion
150g shiitake mushrooms
1 red chilli
100g salted cashew nuts to serve
Method
Mix the sesame oil, tamari and grated ginger together.
Gently stir in the tofu and leave to marinade while you prepare the other ingredients.
Bring a large saucepan of salted water to the boil.
Cut the broccoli lengthwise into separate stems and cook for 3 minutes.
Drain and set aside.
Cut the onion in half and then slice, not too thinly.
Finely chop the chilli and roughly chop the mushrooms.
Heat the oil in a wok and gently stir fry the tofu, including marinade, along with the mushrooms, chilli and onion.
After a few minutes, add the broccoli to warm through.
Serve with rice or noodles and top with the cashew nuts.
We have over 800 delicious freefrom recipes on this site all of which are gluten free, most of which are dairy and lactose free and many of which are free of most other allergens. Please go to the following sections to try them out: