Baked Falafel with Harisa Dressing
Corn, egg, gluten, lactose, milk, nightshade, nut, peanut, sesame, soya & wheat free
Falafel are usually deep fried but they work surprisingly well baked in the oven. However they are cooked, they are tastier eaten warm. These falafel can be re-warmed by heating in a pan with a little oil.
Makes about 16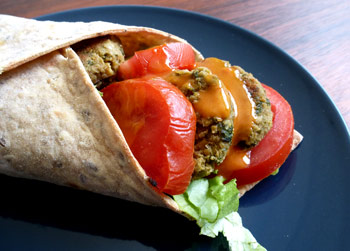 Ingredients
1 small red onion
2 cloves garlic, crushed
2 tsp ground coriander
2 tsp ground cumin
Pinch of salt
1 tbsp olive oil
30g (large handful) parsley
1 x 400g can chickpeas, drained and liquid reserved
Oil for spraying the tray and falafel
Dressing
4 tbsp liquid from the chickpea can
¼tsp cream of tartar
1 tsp lemon juice
1 heaped tsp harisa paste (check ingredients)
180ml mild oil (vegetable or rice etc, not olive)
Method
Put all the ingredients, except the chickpeas, into a food processor and whizz until quite smooth.
In another bowl use a potato masher or fork to brake the chickpeas into small pieces.
Stir the rest of the ingredients into the chickpeas.
Put int the fridge to chill for a while or overnight.
When you are ready to cook the falafel, heat the oven to 180°C / Gas 5.
Spray a baking tray with olive oil or use a pastry brush to coat it.
Gently roll the mix into about 16 balls and spread out on the baking tray.
Gently press each one to flaytten a little and the spray / paint with oil.
Bake for 15 minutes and then use a spatula to gently turn each one.
Spray or paint the tops with more oil and then bake for a further 15 minutes.
Serve warm in a wrap with lettuce and tomatoes or with salad. I used Warburton's gluten free super seed wraps which are also milk free.
To make the dressing, use an electric whisk to blend all the ingredients except the oil.
Keep the whisk going while you add the oil a little at a time.
Wait for each addition to be combined before you add the next.
You can use the dressing straight away or chill it to thicken it up.
We have over 800 delicious freefrom recipes on this site all of which are gluten free, most of which are dairy and lactose free and many of which are free of most other allergens. Please go to the following sections to try them out: