Crunchy Asian Salad with Quick Chilli Dressing
Corn, egg, gluten, lactose, milk, nightshade, nut, peanut, sesame, soya & wheat free
This salad is loosely based on coleslaw but with vegetables you might expect to find in a stir fry. The seeds are optional but they do give a lovely dry savoury note among the vegetables.
Serves 4
Ingredients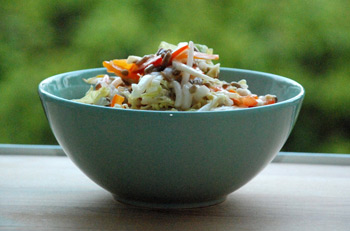 ½ chinese leaf cabbage, finely sliced
6 spring onions, finely sliced
large handful of bean sprouts
2 red or orange peppers, finely sliced
large handful of sunflower seeds
6 tbsp freefrom mayonaise
4 tbsp chilli dipping sauce (check ingredients)
Method
Mix the chinese leaf, spring onions, bean sprouts and peppers together in a large bowl.
Heat a dry frying pan and toast the sunflower seeds until they start to make a popping sound.
Stir them through the vegetables.
In a small bowl, thoroughly mix the mayonaise and chilli sauce.
Mix the dressing well into the salad and serve.
We have over 800 delicious freefrom recipes on this site all of which are gluten free, most of which are dairy and lactose free and many of which are free of most other allergens. Please go to the following sections to try them out: