Roast carrot Moroccan stew
Corn, dairy, egg, gluten, lactose, nut and wheat free
serves 4

A simple warmly spiced vegetarian one bowl supper.

Ingredients: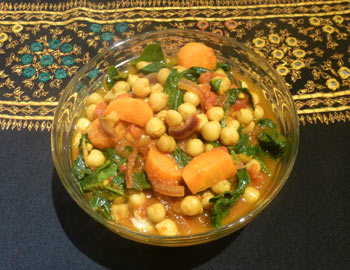 3 large or 4 smaller carrots
2 tbsp olive oil
1 onion, chopped
1 clove of garlic, crushed
1 tsp ground cumin
1 tsp ground ginger
1 tsp ground turmeric
½ tsp cinnamon
1 tsp paprika
400g can chopped tomatoes
400g can chickpeas, drained and rinsed
2 tsp honey
salt and pepper
300g or 4 large handfuls of spinach

optional: yogurt to serve
Preheat the oven to 180c / 160c fan / gas 4.
Scrub the carrots and chop them into 1cm slices. If the carrots are very large, cut the slices in half.
Place them in a baking tray and coat in 1 tbsp of olive oil.
Cook for about 30 minutes until lightly browned and soft enough to prod a fork through.
Meanwhile, heat the other tbsp of oil in a large saucepan.
Add the onion and cook gently for a few mintes until softened.
Then add the garlic, cumin, ginger, turmeric, cinnamon and paprika.
Cook for 2 minutes, stirring constantly.
Next add the tomatoes. Refill the can 3/4 full with water and pour in.
Cook for about 15 minutes, stirring occasionally.
Stir in the chickpeas and honey and season to taste with salt and pepper.
Pile the spinach on top and put a lid on the saucepan.
Cook for a few minutes until the spinach has wilted.
Stir the spinach through and add the roasted carrots.
Serve with rice and a dollop of any yogurt you can eat on top.

Back to more freefrom vegetable and vegetarian recipes