Michelle's FreeFrom hard boiled eggs and rice
Corn, dairy, gluten, lactose, nightshade, nuts, soya and wheat free
This is so simple – but looks so pretty – and actually, also tastes delicious!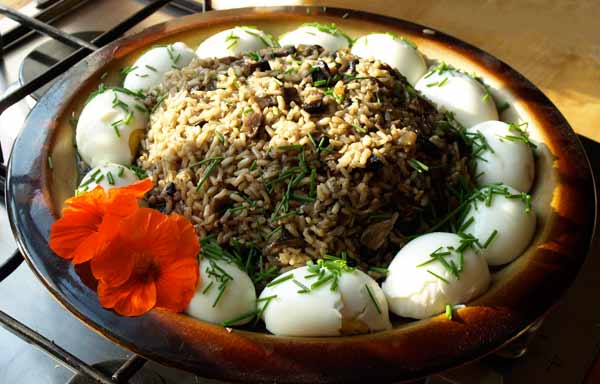 5 tbsp olive oil
2 medium red onion, very finely chopped
250g button mushrooms, sliced
250g unhusked brown rice
1.2 litre gluten and wheat free vegetable stock
sea salt and freshly ground black pepper
6 hard boiled eggs
handful of chives or spring onions tops
Heat 3 tablespoons of the oil I a wide pan and add the onions. Sauté very gently for 20–30 minutes or until they are quite soft.
Add the extra oil and the mushrooms, turn the heat up slight and sauté slightly faster until the mushrooms give their juice – around 5 minutes. Add the rice, stir well, cook for a minute or two and then add the stock.
Bring back to the boil and simmer briskly for 20–25 minutes or until nearly all of the liquid is absorbed and the rice is cooked.
Season to taste if it needs it – this will depend on the stock you used.
Meanwhile, boil the eggs for 5–6 minutes depending on size, cool, shell and halve.
Mound the rice in the middle of a serving dish and arrange the eggs, yolk side down, around the rice.
Decorate all with chopped chives before serving.
Back to more freefrom vegetable and vegetarian recipes