Michelle's FreeFrom Hamine Eggs with Aduki Beans
Wheat, gluten, corn, dairy, nightshade & nut free; can be soya free

This recipe is based on a north African recipe for very slow cooked eggs with fava beans. Try to cook it at least a day before you want to eat it to allow the flavours time to mature.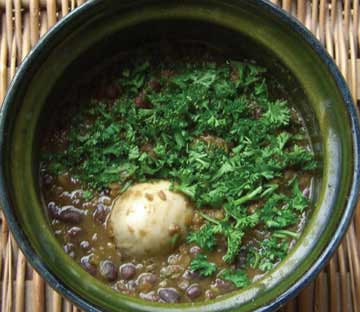 200g / 7oz dried aduki beans
6 large eggs
2 medium onions
6 large cloves garlic
3 tbsp olive oil
2 level tsp cumin powder
150g / 5oz red lentils
1.2 litres / 40fl oz miso or gluten/wheat-free
vegetable stock
sea salt and freshly ground black pepper
2 large handfuls fresh parsley, ideally flat leaf
Soak the beans in plenty of cold water for 4-5 hours.
Cook the eggs very slowly (2-3 hours at a bare simmer) in plenty of water with a few onions skins or coffee grounds to tint them lightly. Allow to cool in the water and then peel and discard the shells.
When the beans have been soaked, discard the water and put them in a deep pan covered in fresh cold water. Bring to the boil and simmer, uncovered, for 45 minutes then drain.
Meanwhile, peel the onions and garlic and chop finely in a food processor.
Heat the oil in a deep, heavy pan and add the cumin. Stir well then add the minced onion and garlic. Cook gently for 20-30 minutes or until the vegetables are quite soft.
Add the lentils, stir well then add the stock. Bring to the
boil and simmer, uncovered for a further 30 minutes or until the lentils are cooked and mushy.

Add the aduki beans and the eggs and stir very gently so as not to damage the eggs.
The dish should be very juicy so if you think it needs extra liquid, add extra stock or miso at this stage.
Season lightly and set aside in a larder or fridge for up to 24 hours.
To serve, reheat the pan very gently. Adjust the seasoning to taste and serve with lots of freshly chopped parsley.
Serves 6 - per portion
344cals - 22g protein
14g total fat - 3g sat / 7g mono / 1.5g poly
35g carbohydrate of which 4g sugar
7g fibre - 210mg sodium / 0.5g salt
Good Source of: Vitamin B1, B6, B12, folic acid, iron & zinc
Back to more freefrom vegetable and vegetarian recipes