Michelle's Freefrom griddled aubergine with mushrooms

Corn, dairy, egg, gluten, lactose, nut, soy and wheat free.
If you have a griddle this is a really easy, but impressive lookin, dish, although it takes a bit of time. If you do not have a griddle you could dry fry the thin aubergine slices or cook them under a hot grill.
Serve it for lunch with a green salad or on its own as a starter.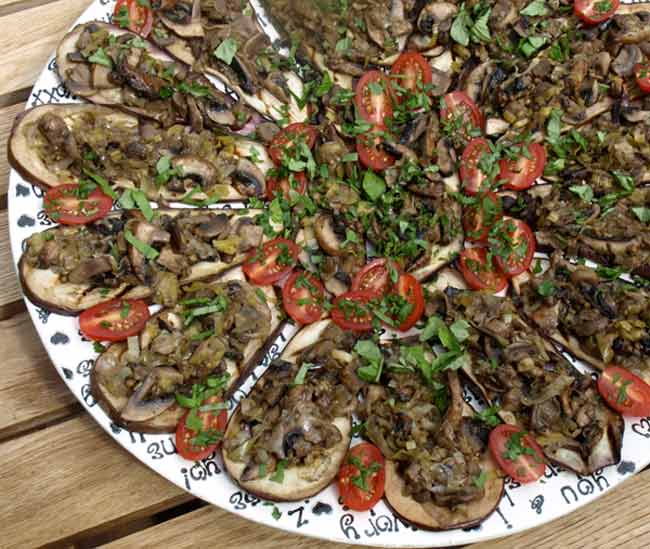 Serves 4
1 large aubergine (or 2 small) sliced into thin sliced lengthways – take care not to cut your fingers! You need to cut the slices thinly so that they will get cooked through and not be tough.
4 tbsp olive oil
2 small leeks, trimmed and sliced thinly
1 heaped tsp coriander seeds, lightly crushed with a rolling pin
200g/7oz mixed mushrooms – open cup or button – sliced thickly
sea salt and freshly ground black pepper
juice 1 lemon
3-4 sprigs fresh basil
Cook the aubergine slices quickly on a hot griddle on each side – they will take a couple of minutes on each side – and set aside.
Meanwhile, heat 2 tbsp of the olive oil in a pan and add the lightly crushed coriander seeds and the mushrooms. Cook briskly till the mushrooms wilt and release their juices.
Spread the aubergine slices on a serving dish.
Season the mushrooms with salt and black pepper then spread them over each aubergine slices. Drizzle with the lemon juice and the rest of the olive oil then sprinkle with the chopped basil.
serves 4 - per portion
124 Calories
2g Protein
12g Fat ( 2g Sat fat, 8g mono, 1g poly)
3g Carbohydrate of which 2.5g Sugar
3.5g Fibre, trace mg Sodium, trace g salt
20mg Calcium

Good Source: B6
Back to more freefrom vegetable and vegetarian recipes