Michelle's FreeFrom Ginger, Puy Lentil and Cashew Nut Loaf
Dairy, wheat, gluten, corn, soya & egg free; can be nightshade free
(Carnivores could always serve it with a roast...) Marketing Laura, who is particularly addicted to sweet potato, thought that the tomato sauce was quite unnecessary - so feel free to include it or not as you feel inclined.
The mixture makes a soft loaf so be careful when un-moulding it.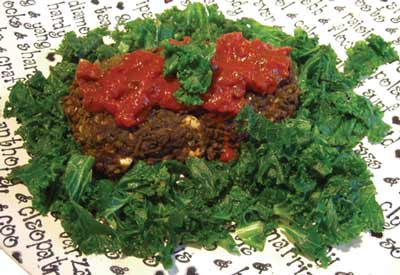 3 tbsp olive oil
2 large onions, peeled and puréed in
a food processor
4 cloves garlic, peeled and sliced
40g / 1 1/2oz piece of fresh ginger, peeled and cut into thin matchsticks
1 heaped tsp ground coriander
250g / 9oz puy lentils
700ml / 24fl oz gluten and wheat-free vegetable stock
100ml / 3fl oz port or Marsala
400g / 14oz sweet potato, peeled and diced
1 tbsp cow's or goat's butter or olive oil
500g / 1lb 2oz chopped hazelnuts
100g / 3oz broken cashew nuts
sea salt and freshly ground black pepper
750g / 1lb 11oz curly kale, spring greens or fresh spinach
Heat the oil and add the onions, the garlic, ginger and coriander. Stir well then cover and sweat over a low heat for at least 20 minutes or until they are quite soft.
Add the lentils, stock and port or Marsala, bring back to the boil and simmer for 30 minutes or until the lentils are cooked (but not mushy) and the liquid absorbed.
Meanwhile, steam the sweet potato for 10-15 minutes or until it is soft.
Mash the sweet potatoes with the butter or oil.
Toast the chopped hazelnuts and cashew nuts under the grill or in a dry frying pan until lightly tanned all over.
Heat the oven to 180C/350F/Gas mark 4.
Mix the sweet potato and nuts into the lentil mix and season to taste. Line a loaf tin with oiled greaseproof paper and spoon in the mixture. Bake uncovered for 45 minutes.
Remove from the oven and cool slightly.
Meanwhile chop and steam the kale, greens or spinach lightly for a few minutes or until it is lightly cooked but still has a little bite.
Heat the tomato sauce if you are using it.
Arrange the greens on your dish. Unmould the loaf carefully into the middle of the greens and spoon over the tomato sauce if you are using it.
Simple Tomato Sauce
4 medium leeks
600g tinned tomatoes
1 glass dry red wine
salt & pepper
3 sprigs fresh dill
Chop leeks finely and put in pan with tomatoes and wine. Bring to boil and simmer, covered, for 30 minutes. Purée in food processor, season to taste with salt and pepper and add finely chopped fresh dill just before serving. Thin with a little filtered water if necessary.
Serves 8 - per portion
756cals - 25g protein
54g total fat - 5.25g sat / 39g mono / 7g poly
42g carbohydrate of which 15g sugar
113.5g fibre - 148mg sodium / 0.4g salt
Good Source of: Vitamins B6, magnesium, copper, zinc & iron
Back to more freefrom vegetable and vegetarian recipes