Michelle's FreeFrom Flageolet, fennel and chard pot with green pepper corns

Corn, dairy, egg, gluten, lactose, nightshade, nut, soya and wheat free
This makes a really good one pot meal, vegetables included! If you are using dried beans you will need to start the day before by soaking the beans – but you can cheat and use tinned…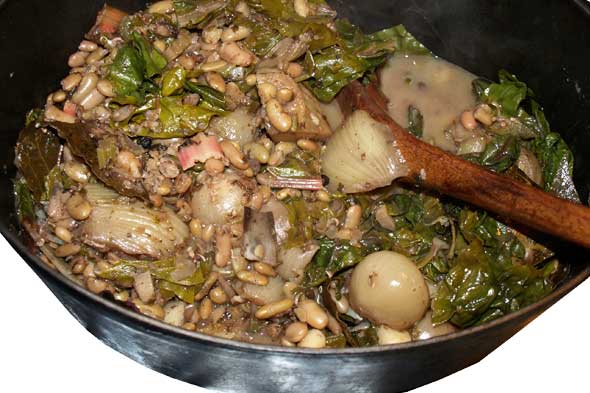 Serves 4
250g/9ozs dried flageolet beans – or 3 x 225g/14oz tins flageolet beans
1 heaped tbsp coconut oil or 2 tbsp olive oil
12 shallots, peeled
4 large cloves garlic, peeled and halved
2 sticks celery, chopped fine
8 pieces of okra, trimmed and sliced into rings
50g/2oz piece of stem ginger, peeled and sliced finely
2 largish bulbs of fennel, trimmed and quartered
4 bay leaves
2 tsps black peppercorns
500ml/16floz strong rice-based miso (if you do not have miso you could also use a good vegetable stock)
250ml/8floz red wine
250g/9oz rainbow chard
2 tsps green peppercorns
sea salt
Soak the dried beans over night, then drain them and boil them in plenty of fresh water for 1 ½-2 hours or until they are softening but not mushy. Drain.
You could also use tinned beans in which case you would need 3 x 225g/14oz tins, drained.
Heat the coconut or olive oil in a heavy casserole and add the shallots, garlic, okra and ginger. Fry very gently for 10 minutes then add the quartered fennel bulbs and continue to sweat, covered for a further 10 minutes.
Add the beans, miso and wine with the bay leaves and black peppercorns. Bring to the boil, cover and simmer for a further 30 minutes or until the fennel and beans are cooked.
(If you are using tinned beans, cook the fennel for 15 minutes with the miso and wine, then add the drained beans and continue to cook for another 15 minutes.)
Chop the rainbow chard roughly, including the stems. Add it to the pot along with the green peppercorns. Cook for a further 5 minutes just to cook the chard then season to taste with salt.
Serves 4 – per portion:

354 Calories
17g Protein
10g Fat ( 3.5g Sat fat, 4g mono, 1g poly)
42g Carbohydrate of which 12g Sugar
18g Fibre, 423mg Sodium, 1g salt
153mg Calcium

Good Source: Mg, B1, B6, Folate
Back to more freefrom vegetable and vegetarian recipes