Michelle's FreeFrom Flageolet bean, chestnut and cardamom soup-stew
Corn, dairy, egg, gluten, lactose, nightshade, soya and wheat free

This is one of my more off the wall concoctions and not everyone will like the slightly strange combination of cardamom with a more conventional 'stew' – three out of the four people who tried it on loved it, the fourth was distinctly dubious!!
You could serve it either as a very substantial soup or as a very liquid stew!! Because it is so liquid it would probably be better to serve a green vegetables or salad separately afterwards.
You can use tinned rather than dried beans if you want to cut down on the cooking time although the flavour and texture is never quite the same.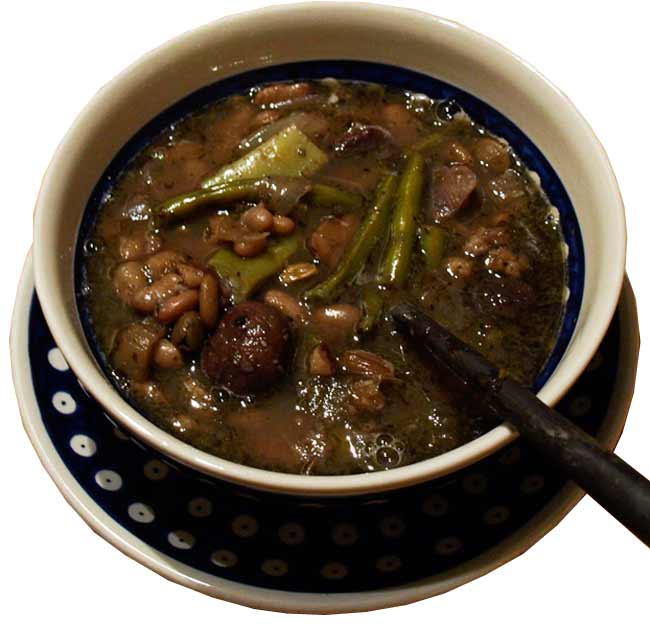 Serves 4 – 6 depending on appetites!
200g/7oz flageolet beans, soaked overnight or 2 x 400g/14oz tins flageolet beans
2 tbsp coconut oil or 3 tbsp olive oil
3 sticks celery, sliced thickly
6 shallots, peeled and left whole
4 large cloves garlic, peeled and left whole
6–8 large button mushrooms, halved
2 heaped tsp cardomom seeds, lightly crushed with a rolling pin
2 heaped tsp herbes de Provence
500ml/17 floz gluten and wheat free vegetables stock
600ml/1 pt red wine
150g/6oz helda or other green beans, halved or cut in thirds
200g/7oz vacuum packed or tinned chestnuts
sea salt and freshly ground black pepper
Soak the beans over night. Drain and put in a large pan well covered with cold water. Bring to the boil and boil gently for approximately 1 hour or until they are softening but still a bit crunchy. Drain. If you are using tinned beans, drain them.
In a heavy flame proof casserole heat the oil and add the celery, shallots, garlic, mushrooms, cardamom seed and herbes de Provence. Fry gently for 10–15 minutes or until the vegetables are softening.
If you are using dried beans, add them along with the stock and wine, bring to the boil, cover and simmer gently for 30 minutes or until the beans are quite cooked – they should still have some texture. If you are using tinned beans then just add the stock and wine and simmer for 20 minutes.
Add the greenbeans, chestnuts and the tinned beans, if you are using them, and continue to simmer for a further 15 minutes.
Adjust the seasoning to taste and serve.
Back to more freefrom vegetable and vegetarian recipes