Michelle's
FreeFrom fennel salad with radicchio
Wheat, gluten, corn, soya, nightshade, dairy, egg & nut free
So simple – but really tasty. Make sure you do not overcook the fennel.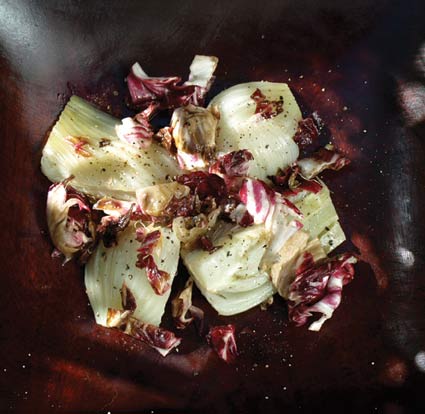 3 large or 6 small heads of fennel
2–3 heads radicchio, depending on size
sea salt and freshly ground black pepper
2–3 tbsp cider vinegar
4–6 tbsp olive oil
Halve or quarter the fennel,
depending on size, and steam for 8–10 minutes or until they are soft without being mushy.
Turn into a bowl.
Chop the radicchio roughly and
mix into the fennel.
Dress to taste with salt, pepper, cider vinegar and oil and serve at room temperature.

Serves 6 – per portion
78cals – 1g protein
7.5g total fat – 1g sat / 5.5g mono / 0.6g poly
2g carbohydrate of which 1.5g sugar
2g fibre – trace sodium / trace salt
22mg calcium
Good Source of: Vitamin C
Back to more freefrom vegetable and vegetarian recipes