Michelle's Fennel, bean, avocado and mint salad

Corn, egg, gluten, milk, nightshade, nut, peanut, sesame, soya & wheat free
Delicious and filling. To make it nut free, substitute pumpkin seeds for the pecans, and sesame seeds for the ground hazelnuts.
Serves 4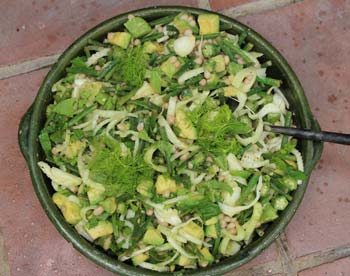 Ingredients
1 x 400g tin of haricot beans
200g fine Kenya beans
sea salt and freshly ground black pepper
2 tablespoons olive oil
2-3 lemons
2 heads fennel
50g fresh okra
1 large or 2 small avocados
large handful of fresh mint
Method
Tip the haricots beans into a pot and heat gently till well warmed but no where near boiling. Strain. (They absorb the dressing much better if they are warm.)
Meanwhile, trim the Kenya beans and halve them, then steam for 2-3 minutes or until they are slightly softened but still crunchy.
Tip the haricots beans and the green beans into a bowl and dress with salt, pepper olive oil and lemon juice. You will need extra lemon juice to toss the fennel and the avocado to stop them going brown.
Finely slice the fennel, toss in lemon juice and then add to the beans. Top and tail the okra, slice it quite thinly and add to the salad.
Peel the avocados, cut into largish dice and toss in lemon juice the add to the salad.
Chop the mint roughly and add to the salad and then toss all very gently so as not to crush the avocado. Decorate with some fennel fronds if you have any left.
Serve at room temperature.
We have over 800 delicious freefrom recipes on this site all of which are gluten free, most of which are dairy and lactose free and many of which are free of most other allergens. Please go to the following sections to try them out: