Michelle's FreeFrom Cucumber and Artichoke Salad
Wheat, gluten, corn, nightshade, dairy, soya, egg & nut free
A refreshingly different cucumber salad.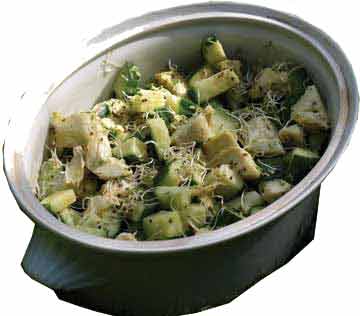 1 large cucumber
400g / 14oz tin (can) of artichoke hearts, drained
85g / 3oz alfalfa sprouts
sea salt and freshly ground pepper
2 tbsp cider (or wine) vinegar
Cut the cucumber into relatively small cubes,
discarding any over-seedy sections, and put in a bowl.
Cut the artichoke hearts into eighths and mix into the cucumber.
Add the alfalfa sprouts, pulling them gently ?apart so that they are well distributed.
Season with salt and pepper and sprinkle over the vinegar before serving.
Serves 6 – per portion
23cals – 2g protein
0g total fat – 0 sat / 0g mono / 0g poly
3.5g carbohydrate of which 1.5g sugar
1.5g fibre – trace sodium / trace salt
16mg calcium
Back to more freefrom vegetable and vegetarian recipes