Michelle's FreeFrom Courgette, okra, celery and spring onion salad
Corn, dairy, egg, gluten, lactose, nighshade, nut, soya and wheat free
This is a really fresh and healthful salad with lots if interesting contrasting textures. You will not need any oil as the juices of the okra/ladies' fingers will combine with the lemon juice to make a dressing.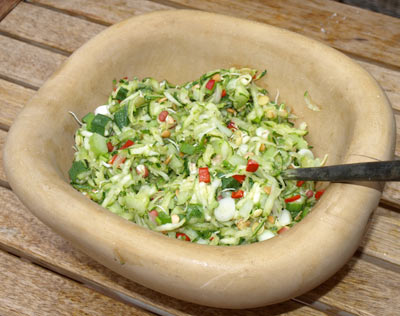 4 medium courgettes/zucchini, wiped and grated coarsely
3 sticks celery, chopped small
1 large red chili, pipped and cut up small
100g / 4ozs okra/ladies' fingers,
topped and tailed and cut in thin rounds
4 large spring onions/scallions, trimmed and cut small
100g mixed sprouted beans
sea salt and freshly ground black pepper
jucie 1–2 lemons
Mix all the ingredients apart from
the seasonings together then season well. Finally add the lemon juice to taste.
Serves 4 as a main course
39 Calories
3.5g Protein
0.8g Fat (0.2g Sat fat, 0.1g mono, 0.3g poly)
5g Carbohydrate of which 4g Sugar
3g Fibre, 19mg Sodium, 0.05g salt
93mg Calcium

Good Source: Vitamin C, B6, folate
Back to more freefrom vegetable and vegetarian recipes