FreeFrom Salads from Cloona

Cloona is a lovely health-farm-cum-yoga-retreat-centre sheltering under Croagh Patrick on the Atlantic coast of County Mayo in the west of Ireland. The eating regime consists of fruit and vegetables only – but what fruits and vegetables! See our article and blog for the full story on Cloona but meanwhile here are Dhara's recipes for three of the delicious salads that you might get if you were to go and stay....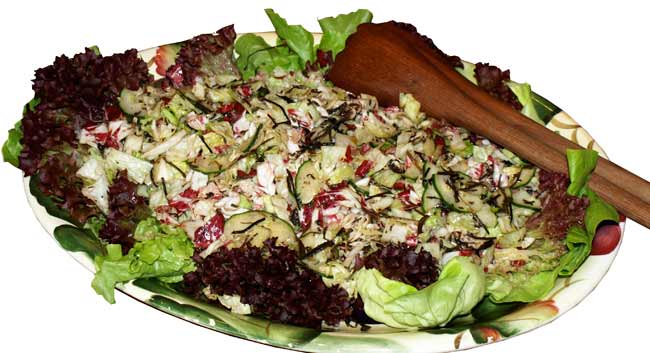 SEAWEED SALAD Serves 4
Corn, dairy, egg, gluten, lactose, nightshade, nut and wheat free
20grams of arame sea vegetable
1 small onion
½ cucumber
½ radicchio
1 iceberg lettuce
Dressing:
2 tbsp wine or cider vinegar
3 tbsp sesame oil
3 tbsp soya sauce
Method:
Soak the seaweed in boiling water for 5 minutes. Drain. Cover with cold water, leave for 10 minutes and then drain it thoroughly. Cut the onion into very fine rings. Thinly slice the cucumber and shred the lettuce. Put all the salad ingredients into a bowl. Stir the vinegar, sesame oil and soya sauce together, spoon over the salad and serve at once.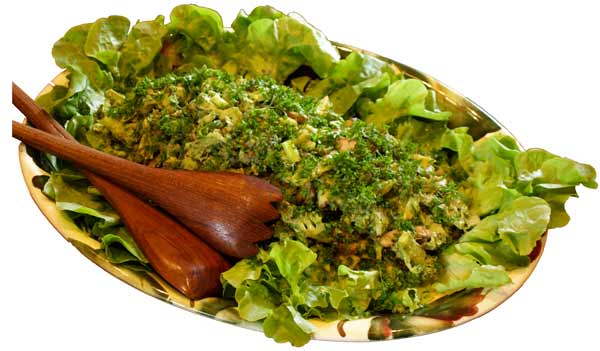 SPINACH, SORREL & AVOCADO SALAD Serves 4
Corn, dairy, egg, gluten, lactose, nightshade, soya and wheat free

8 oz young spinach leaves
4 oz young sorrel leaves
2 ripe avocados

Dressing:

1 clove garlic
1 limes
3 tbsp walnut oil
seasoning
mixed nuts

Method:

Wash and finely chop the spinach and sorrel leaves, cutting away any stalks that look too fibrous. Peel and stone the avocados. Cube and add to spinach and sorrel.
In another bowl add crushed garlic, juice of limes, walnut oil and seasoning.
Sprinkle the salad with mixed nuts.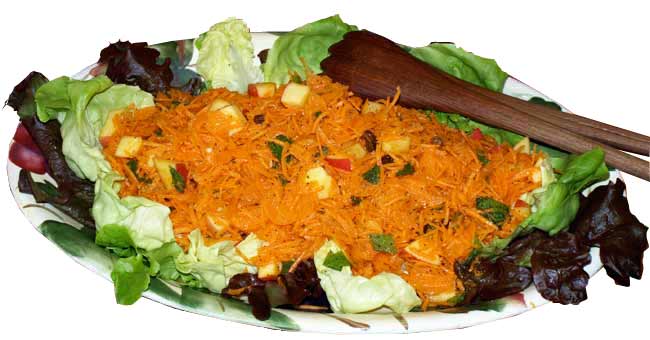 CARROT SALAD Serves 4
Corn, dairy, egg, gluten, lactose, nightshade, nut, soya and wheat free


8 carrots ( grated )
1 apple ( diced )
1 tsp poppy seeds lightly roasted
handful of raisins ( soaked )
large handful of mint roughly chopped

Dressing:

1 cloves garlic
4 tbsp olive oil
1 tbsp apple juice
3 tbsp water
1 lime
salt

Method:

Mix the carrots, apple, poppy seeds and raisins then lightly mix in the mint.
In another bowl mix the dressing ingredients and use to dress the salad. Pile in salad ina bowl to serve.

Back to more freefrom vegetable and vegetarian recipes