Michelle's FreeFrom Chicory and Orange Salad
Wheat, gluten, corn, soya, nightshade, dairy, egg & nut free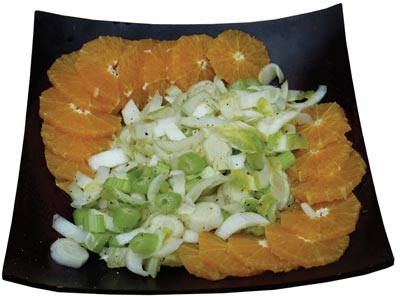 2 large heads chicory (endive), chopped
3–4 stalks celery, depending on size, chopped
juice 1–2 lemons
3 tbsp olive oil
sea salt and freshly ground black pepper
3 large oranges
Mix the chicory (endive) and celery
in a bowl and dress to taste with the lemon juice, olive oil, salt and pepper.
With a sharp knife, cut the peel off the oranges and slice them thinly.
Arrange the oranges around the outside a serving dish and pile the chicory mixture in the middle. Grate over a little extra black pepper and serve at room temperature.
Serves 6 – per portion
95cals – 1.5g protein
6g total fat – 1.1g sat / 4g mono / 0.7g poly
10.5g carbohydrate of which 9g sugar
2.5g fibre – 15mg sodium / trace salt
67mg calcium
Good Source of: Vitamin C
Back to more freefrom vegetable and vegetarian recipes