FreeFrom chickpeas with peppers and chard
Corn, dairy, egg, gluten, lactose, nut, soya and wheat free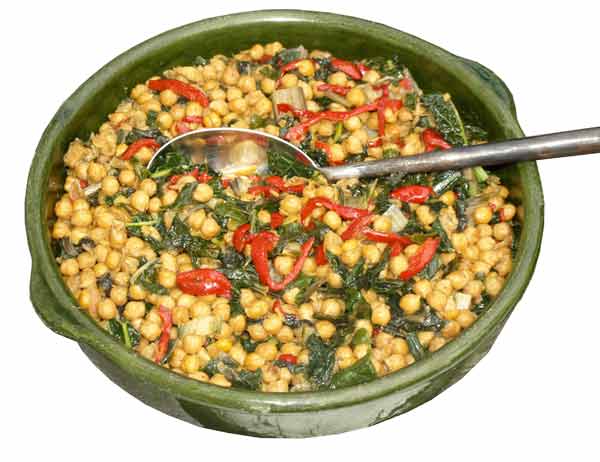 A lovely filling yet fresh dish which you can eat as a salad, at room temperature, or hot as a vegetable. You can save yourself tiem and effort by using tinned chickpeas rather than dried, but the flavours will not amagamate as well and the texture will never be quite as good.
Serves 6

300g dried chickpeas or 3 x 400g tins chickpeas
5 tbsp olive oil
3 heaped tsp cumin powder
50g peeled ginger root, cut in small dice
small bulb of garlic, each love peeled and halved if very large
450ml gluten and wheat-free vegetable stock
sea salt and freshly ground black pepper
1 ½ large long red peppers or 2 large red bell peppers, cored, pipped and cut into long strips
300g green chard or other dark mixed greens – cavolo nero, spinach etc – washed and sliced roughly
Soak the chick peas overnight in plenty of cold water. Drain then put into a large saucepan generously covered with cold water. Bring to the boil and simmer covered for 1–2 hours or until they are reasonably soft. Drain.
Alternatively, drain the three tins of chickpeas.
Heat 2 tbps of the oil in a large pan. Add the ginger, cumin and garlic and cook gently for around 10 minutes, without burning, until the garlic has softened.
If you are using the dried chickpeas, add them along with the stock, bring back to the boil and continue to simmer, covered, for 40–45 minutes or until the chickpeas are cooked. If using tinned, add with 100ml of stock and cook gently for 5–10 minues to allow the flavours to amalgamate.
Meanwhile, heat the rest of the oil in a wide pan, add the red peppers and cook very gently, uncovered, for 30–40 minutes or until they are quite soft.
When the chickpeas are cooked, add the greens and continue to cooked, covered for a further 5 minutes or until the greens are cooked – how long will depend on which greens you use.
Finally, stir in the cooked red peppers and their oil and season to taste.
Serve at room temperature.
Back to more freefrom vegetable and vegetarian recipes