Michelle's FreeFrom Celeriac with curly kale and pecan nuts
Corn, egg, gluten, nightshade, nut and wheat free; can be dairy, lactose and soya free
This is a lovely vegetable with a roast - but can also be used as a vegetarian dish on its own.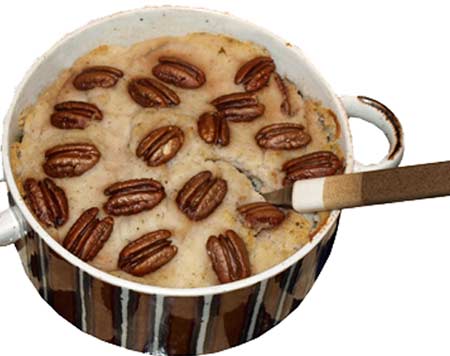 Serves 4
1 kilo / 2 ¼ lbs celeriac root, trimmed and cut in large dice
1 level tsp ground nutmeg or ½
a whole nutmeg, grated
sea salt and freshly ground black pepper
60ml/ ¼ cup goat, soya or oat cream
200g/7ozs curly kale
2 tbsp olive oil
100g/4oz pecan nuts
Heat the oven to 180C/350F/Gs mark 4.
Steam the celeriac until soft.
Remove from the steamer and puree in a food processor with the cream. Season to taste with the salt, pepper and nutmeg.
Meanwhile, trim the kale of all stalks, chop it small and steam till just cooked.
Spoon half of the celeriac into the bottom of an oven proof casserole. Spoon the kale over the celeriac, season lightly and drizzle with the olive oil. Bury about half of the pecan nuts in the kale then cover it with the remaining celeriac. Decorate with the remaining pecan nuts and bake for 25-30 minutes to lightly toast the top of the dish.
Serve as a vegetable with meat or on its own with an another green vegetable.

Serves 4 – per portion

310 Calories
7.5g Protein
27g Fat (3g Sat fat, 15g mono, 7g poly)
8g Carbohydrate of which 6.5g Sugar
12g Fibre, 249mg Sodium, 0.6g salt
180mg Calcium

Good Source: Vits B6,B1
Back to more freefrom vegetable and vegetarian recipes