Michelle's FreeFrom Celeriac and Beetroot Remoulade
Wheat, gluten, corn, nightshade & nut free; can be dairy, soya & egg free
Fresh beetroot (beets), visually, is all pervading but although this salad looks very pink, the flavour of the celeriac and mint are quite strong enough to hold their own with the beetroot.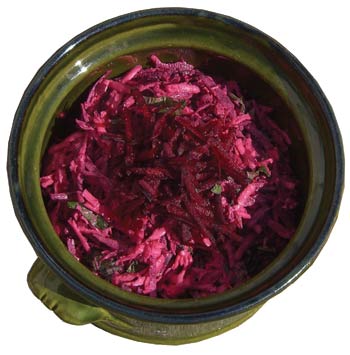 3 tbsp mayonnaise - home made or ready made
(Plamil - Life Free From - both make very good egg-free mayonnaises)
1 lemon / 2-3 tbsp cider vinegar
1 tbsp plain yogurt, whatever variety you can tolerate
2 tbsp hot water
sea salt and freshly ground black pepper
300g / 11oz celeriac
2 medium size fresh beetroots (beets)
2 large handfuls fresh mint leaves
Put the mayonnaise in a small bowl and add the lemon juice or vinegar, yogurt, water, salt and pepper and adjust to taste. Peel the celeriac and top and tail the beetroots (beets). Grate (shred) into a bowl then add the dressing, mix well and adjust seasoning to taste if needed. Just before serving, chop the mint leaves small and mix into the salad.

Serves 6 - per portion
74cals - 1g protein
6g total fat - 1g sat / 4g mono / 1g poly
3.5g carbohydrate of which 3g sugar
2g fibre - 81mg sodium / 0.2g salt
27mg calcium
Good Source of: folate
Back to more freefrom vegetable and vegetarian recipes