Michelle's FreeFrom Cavolo Nero with beet leaves
Corn, dairy, egg, gluten, lactose, nightshade, nut, soya and wheat free
The very dark cabbages can be slightly bitter but adding the apple just takes off that bitter edge. If you cannot get the Cavolo Nero you could just use curly kale.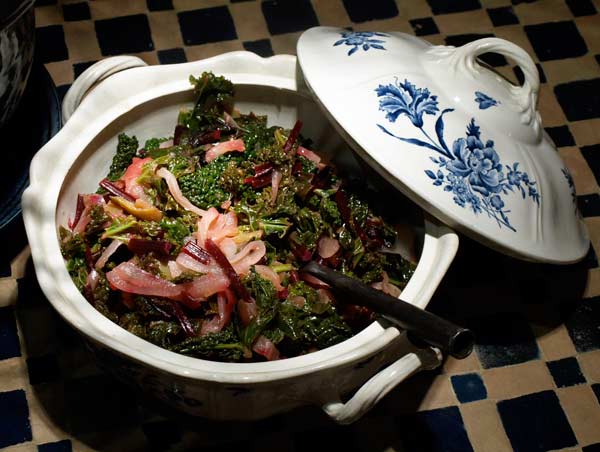 2 tbsp olive oil
1 large onion, peeled and sliced
1 large cooking apple, Bramley if possible, wiped and chopped small, with its skin on
sea salt
300g / 11oz Cavolo Nero
150g / 5oz curly kale
150g / 5oz beet greens with stalks, if you can find them
2–3 tbsp water
freshly ground black pepper
Heat the oil in a deep pan and add the onion and apple with a pinch of salt to help prevent it burning. Fry gently for 5–8 minutes or until the onion is quite soft – but watch it carefully as it will burn very easily.
Wash all the green and remove any coarse stalks. Shake dry, leaving a fairy amount of water on the leaves, then chop roughly.
Add to the onion mix, cover and cook gently for 5–10 minute or until the greens are cooked but retain a little crunch. If they appear to be drying up, add a little water – the mixture should be moist without being wet.
Season to taste before serving.
Serves 4 – per portion
Calories 131 Kcals
5.5g Protein
8g Fat (1g Sat fat, 4.2g mono, 1.8g poly)
11g Carbohydrate of which 9g Sugar
6g Fibre, 103g Sodium, 0.26g salt
225mg Calcium

Good Source: Vitamin B1, B6, Folic acid, Magnesium, Vit C
Back to more freefrom vegetable and vegetarian recipes