Michelle's FreeFrom Cauliflower with anchovies and lemon
Corn, dairy, egg, gluten, lactose, nut, soya and wheat free
A deliciously piquant and unusual salad - based on an ancient Roman recipe!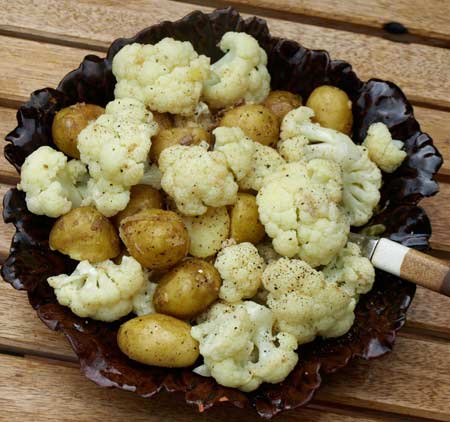 4 medium new potatoes, scrubbed and halved or quartered
1 medium head of cauliflower, broken into florets
3 tbsp olive oil
6 anchovies plus 2 tbsp oil from
the tin
2 cloves garlic, crushed
juice 2 lemons
salt and pepper

Steam the potatoes for 15 - 20 minutes until just cooked. At the same time, steam the cauliflower
in a separate pan for 10 - 15 minutes, until just cooked but still slightly crunchy.
Heat the oil in a heavy, wide pan and add the anchovies, their oil and the garlic.
Cook for several minutes or till the anchovies have partially dissolved.
Add the lemon juice and a little salt and pepper, then add the potatoes and the cauliflower florets.
Toss well in the sauce and leave to marinate for at least 30 minutes before serving warm or at room temperature.
Serves 4 - per portion
193 Calories
5g Protein
15g Fat (2g Sat fat, 10g mono, 1.6g poly)
10.3g Carbohydrate of which 2.5g Sugar
1.9g Fibre, 198mg Sodium, 0.48g salt
32mg Calcium

Good Source: Vitamin B12, B6, C

Back to more freefrom vegetable and vegetarian recipes
Back to Foods Matter freefrom recipes home